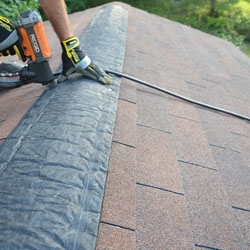 Mayfield Heights, OH, September 01, 2017 --(
PR.com
)-- Keene Building Products is pleased to announce the launch of a new roofing product, VIPER VENT™.
This patented, light weight, ridge vent provides an industry leading 15 square inches of net free vent area per linear foot. The one of a kind double density edge provides superior strength and rigidity, ensuring its ability to maintain a sleek finished look that makes it virtually invisible.
VIPER VENT has a filter that is manufactured with extra thick fibers, the UV resistant textile is 40% thicker than the industry standard allowing it to provide superior air flow over its lifetime. The product is manufactured in 5 versions: 20 LF, 20 LF with nails, and 50 LF, 50 LF with nails, and a 4 ft stick. All versions meet the needs of your local building code.
VIPER VENT can be applied on an asphalt, wood, tile, metal, or slate roof.
Keene Building Products is an American manufacturer of 3-dimensional filament products for the noise control, building envelope and roofing markets.