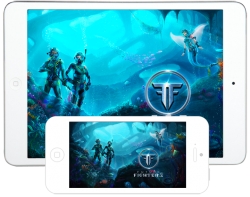 San Luis Obispo, CA, September 05, 2017 --(
PR.com
)-- Future Fighters launches Indiegogo campaign to crowdsource its development effort and build momentum from the community.
A team of passionate ocean entrepreneurs have joined forces to create a revolutionary new gaming experience that turns entertaining gameplay into an opportunity to "do good."
An app-based gaming platform, Future Fighters takes players on an underwater adventure where they are tasked with collecting marine litter, stopping oil spills and freeing entangled sea life, all while navigating treacherous undersea environments. Additionally, to progress, players will have to complete trivia that will educate players about the importance of ocean activism.
"We are all from diverse backgrounds but we have one major common thread, and that's a passion for our planet," Kasey Stewart, Future Fighters Creative Director. "We can now come together in a unique way, sharing our mutual interest for adventure… on our new gaming platform. You can play, share and be involved in this experience that can have a real impact on the planet, starting with ocean clean up."
To take things a step further, Future Fighters offers real-life impact opportunities from gameplay. The more players eradicate pollutants and dangers in the game's underwater labyrinth, the more money that is donated to a select group of non-profit organizations dedicated to ocean cleanup and preservation.
"We're going to donate a portion of all profits that Future Fighters generates to select nonprofit, boots on the ground organizations," says Ashley Day, Future Fighters CEO. "So, we encourage you to spread the word and be a part of this mission. Change for the better could just be a download away."
Future Fighters is changing the way people view the environment through an incredible movement where social media and gaming are merged together with real-world scenarios, and where the activities then actually lead to help real world problems, create excitement, momentum, empowerment and knowledge that players will be proud to be part of. Through this medium, people will feel they can have a voice to larger issues in our environment, all while adventuring underwater in the Future Fighter world.
"This game really transcends the gaming and entertainment space with real world issues that we have been working on for years via Ocean Recovery Alliance," says Doug Woodring, Co-Founder of Ocean Recovery Alliance. "The ocean faces so many issues, many of which are solvable, but they need momentum, focus and 'all hands on deck,' and Future Fighters will allow NGOs that are working on the frontlines to gain resources to expand their work, simply from those playing the game."
Currently, the Future Fighter's team is working hard to wrap up the app's development and is looking to the community for support and additional funding resources before the game can be launched. An Indiegogo campaign for Future Fighters has been created, which offers donors a variety of "thank you" prizes including social media shout outs, t-shirts, hats, in-game power ups and much more. Visit the website to learn more about Future Fighters and how you can help be a part of a revolutionary gaming experience.