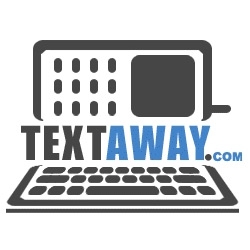 Chicago, IL, February 21, 2008 --(
PR.com
)-- From Talk to Text - text messaging is now a primary communication channel and TextAway.com makes it easy and free.
Virtually every member of Generation X and Y has taken up text messaging as a daily part of life. Even a significant portion of Baby Boomers are catching on to the new communication trend. But not everyone has a BlackBerry or PDA phone and thumbing out a sincere message on a small keypad can be tedious. Also, paying for every message sent and received can get expensive, especially overseas. Since most people spend a significant portion of the day in front of a broadband-connected computer, TextAway.com helps make texting easier, quicker and free.
TextAway.com launched with the goal of offering internet users a free and innovative method to keep in touch. The website allows its users to send free text messages to a single person or multiple individuals with U.S. mobile phones. TextAway.com is gaining popularity with thousands of loyal users and delivering many thousands of text messages each month from all over the world.
This innovative website is different than many competitor websites that offer web-based texting because it facilitates a real-time exchange of text messages and many cool features. Users can preference the manner in which they receive text message replies from friends and family (email, mobile phone, or the TextAway inbox). When the user's friend receives the text message on their mobile phone, they can reply and that message is routed back through the channel the user selected (email, mobile phone, or the TextAway Inbox). The dialogue can then continue in real-time between the TextAway user and the mobile recipients. TextAway.com also allows users to easily store and organize their mobile contacts into categories and use them to send messages quickly. The website also offers the ability to send text message invitations (similar to the email invitations offered by Evite.com), which allow the recipient to RSVP for an event directly from their cell phone.
The most gratifying aspect communicated by TextAway is being able to connect individuals across the globe and deliver important messages in seconds. The small company was excited to receive word that many soldiers in Iraq have been using TextAway.com to connect with family and friends. The company has since made it a goal to ensure that all members of the military abroad are aware of their website and use it to communicate with family and friends (who don't even have to be in front of their email to get the message or respond).
With the growing trend, TextAway has also grown its development team to offer custom applications for businesses, universities and professionals. The objective is to use the power of texting to improve communication and productivity among clients, customers, students and employees.
Text messaging is sure to continue to grow as an every day communication channel. TextAway.com hopes to continually innovate and grow with this exciting trend by providing a free and easy text messaging service.
###