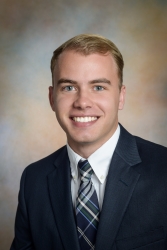 Hamilton, NJ, September 07, 2017 --(
PR.com
)-- Christopher Jeffery has been named an account administrator at New Day Underwriting Managers, a leading specialty intermediary of environmental and construction-related professional liability insurance. A recent college graduate, Jeffery will support New Day's operations, claims and policy servicing, while also assisting in the company's sales and account management efforts.
"We were immediately impressed by Chris's work ethic and commitment to learning the industry," says Jefferey S. Lejfer, CPCU New Day's CEO. "He has diligently sought to supplement his studies with a deep understanding of insurance sales, forms, and distribution networks. This position will provide him with the ability to learn our product lines and in-depth methodology for fulfilling customer needs and our company with the opportunity to groom Chris into a long-time, seasoned executive on our staff."
Prior to New Day, Jeffery served as an intern at McConkey & Co. Insurance & Benefits in York, PA. A resident of Freehold, NJ, he holds a Bachelor of Science in Management from York College of Pennsylvania.
Jeffery can be contacted at 609-298-3516 ext. 130 or christopher.jeffery@newdayunderwriting.com.
About New Day Underwriting Managers LLC
New Day Underwriting Managers LLC is a specialty resource for agents and brokers, assisting them and their clients find appropriate, high-quality environmental and construction-related professional liability insurance coverages. The company offers agents and brokers single-point access to an ample portfolio of products and services provided by the nation's largest environmental and professional liability insurance providers. Additional company information can be found at www.newdayunderwriting.com.