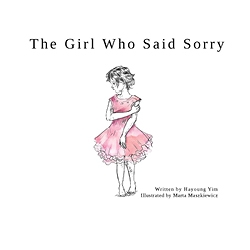 Toronto, Canada, September 14, 2017 --(
PR.com
)-- Feminist and diverse writer Hayoung Yim is thrilled to announce the upcoming publication of her debut children's title, "The Girl Who Said Sorry."
Too girly or too boyish. Too thin or too fat. Too quiet, too loud. Be ambitious, but don't hurt feelings. Be inquisitive, but don't interrupt. Be outspoken, but don't be bossy. Most of all, be yourself -- but be a lady.
Gendered socialization can often be contradicting, and have a lasting impact. The effects of asymmetrical courtesy norms can be observed in academia, the world of business, and everyday linguistics, where women are constantly interrupted, ignored, and apologizing in order to be heard.
Yim wrote "The Girl Who Said Sorry" with hopes of helping young girls make sense of confusing and suppressive expectations, and to assert themselves with confidence.
A beautifully illustrated and powerful rhyme, "The Girl Who Said Sorry" is available October 5th, 2017 in both paperback and eBook forms.