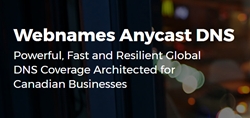 Vancouver, Canada, September 20, 2017 --(
PR.com
)-- Webnames.ca, Canada's leading provider of corporate domain management services and trusted internet solutions provider to more than 25k Canadians, has further strengthened its DNS and security offerings to small businesses and enterprise customers by adding Anycast Secondary DNS to its product lineup.
Webnames Anycast DNS enhances the performance, reliability and security of a website's DNS servers, by geographically distributing a website's nameserver information across a global network of DNS servers.
This made-in-Canada DNS service has been tailored to benefit Canadian organizations. Built in partnership with CIRA, the .CA Registry, Webnames Anycast DNS network includes 12 high capacity nodes worldwide, plus an additional 8 nodes running across Canada to facilitate rapid DNS resolution of a domain name across the globe. Anycast's comprehensive Canadian footprint reduces latency for Canadian-based organizations and allows homegrown Canadian traffic to move exceptionally fast. Moreover, with DNS attacks on both small businesses and large enterprises increasing in both frequency and complexity, DDoS protection and mitigation is more important than ever.
"As a longtime 'ally on the web' to small and medium sized businesses, it was important that our Anycast service be both affordable and accessible to business of all sizes," said Garrett Saundry, Webnames Manager of Product development. "The performance and protective benefits offered by world class secondary DNS should not be the purview of large organizations alone. Every website is reliant on its DNS and provisioning secondary DNS is a critically important Internet infrastructure and security best practice."
Key Product Details:
𑁦 Webnames Anycast can be purchased as a preconfigured or custom plan depending on an organization's DNS volume, with plans starting at just $9.99 Cdn
𑁦 Anycast customers will not incur any overage fees for temporary surges in DNS traffic caused by web events or DDoS attacks
𑁦 Customers can be up and running in as little as 30 minutes, with setup and configuration support provided if needed
𑁦 All Anycast plans are backed by a 100% uptime SLA and 24-hour monitoring
To learn more about Webnames Anycast, which leverages CIRA's D-Zone to provide the most extensive Canadian DNS coverage available, please visit
https://www.webnames.ca/dns/anycast
.
About Webnames.ca:
Webnames.ca is Canada's original and most experienced domain registrar. Canadian owned and operated since 2000, Webnames.ca began as a spin-off from the Internet pioneers who founded the .CA domain in 1987. Today Webnames offers 450+ domain extensions and has two lines of business - a corporate division that specializes in domain portfolio management services, and a retail division that also includes services such as hosting, business email solutions, advanced DNS and domain brokering. The company has a reputation for exceptional customer service, providing unlimited toll-free support in both English and French.
Contact: marketing@webnames.ca