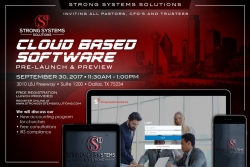 Dallas, TX, September 23, 2017 --(
PR.com
)-- Strong Systems Solutions seeks to ensure that churches worldwide are equipped with the tools necessary to enhance their understanding of financial practice, IRS compliance, and accounting protocol, by utilizing its practical and user friendly Cloud Based Software Accounting Program.
Over the last decade, the IRS has been paying particular attention to churches and faith based organizations with respect to their financial responsibility by conducting surprise audits.
Unfortunately, there have been an increased number of Pastors and Leaders going to jail for tax evasion and other IRS issues. Strong Systems Solutions is providing a solution to assist churches and faith based organizations with the ability to function at a higher level of efficiency, and with an increased understanding of IRS compliance, in order to alleviate challenges that may present themselves if the church or organization is not following proper IRS regulations.
About Kym Strong, CEO of Strong Systems Solutions
In 2013, Kym was honored to have been asked by her financially savvy father and Sr. Pastor to organize and manage the church's finance department. Her frustration with the software the church was using, and its lack of necessary tools and reporting options, set the stage for her to begin researching other software packages more conducive to their needs. To her dismay, she couldn't find one package that offered all the tools necessary for reporting and compliance that would ensure accountability and various reporting options. This process set the stage for her vision of creating a software that was not only efficient and offered many reporting tools, but was also, user friendly and met the needs specific to church's and religious organizations.
Because she has a strong accounting and business background, as an end user of various software packages, such as, Oracle, PeopleSoft and SAP, along with an even stronger background in managing and organizing accounting departments with billion dollar budgets, she was inspired to create a software that will meet the specific needs of churches and religious organizations.
She also saw the need for churches to run the business side of their organizations like a corporation. Just like public corporations have to follow the guidelines of GAAP, churches should follow the IRS guidelines. There is a need for churches to properly budget, forecast, provide reporting so they can better plan and make better business decisions for the church. She wants to encourage these churches to run their business like a corporation to bring back a level of financial integrity to the Kingdom of God and to prevent an Enron situation in the future.
Media Contact:
Alisha Simmons
(443) 285-2475
revalishasimmons@gmail.com
www.strongsystemssolutions.com