Perthera's Subha Madhavan, PhD, to Speak at Prestigious Health 2.0 Conference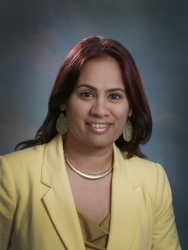 McLean, VA, September 26, 2017 --(
PR.com
)-- Perthera Inc.'s, Subha Madhavan, PhD, Chief Bioinformatics Officer, will be speaking at the 11th Annual Fall Conference of Health 2.0 on Healthcare Innovations, Oct 1 - 4 in Santa Clara, CA, in the Personalized Health Track "Turning Data into Value."
Dr. Madhavan will present a key component of the Perthera Report™, Perthera's every-patient, real-time virtual tumor board technology, and how technologies such as this bring faster, more accurate and highly cost-effective tools to medicine. "I'm extremely pleased to be speaking about this rapidly evolving topic to such a prestigious global audience as Perthera continues to develop technologies and products to advance precision medicine through our Therapeutic Intelligence Engine™," said Dr. Madhavan.
Dr. Madhavan is an invited speaker at the Health 2.0 Conference which is aimed at providing a better understanding of how big data in precision medicine can translate into value for both the patient, the caregiver and the hospital.
Dr. Madhavan (pictured above) is a world-class leader in bioinformatics, data science, clinical informatics and health IT with responsibility for initiation, design, and execution of several large national and international biomedical research programs.
About Perthera, Inc.
Perthera, Inc., is the leading Therapeutic Intelligence Company™ advancing precision medicine through its Perthera Report™, which precisely matches cancer patients with multiple therapeutic options ranked by highest probability of best outcome.
Contact
Perthera, Inc.
Phil Robertson
703-286-0780
www.perthera.com

Contact