Phlebotomy Career Training Receives Accreditation for Online Phlebotomy Certification Course
Phlebotomy Career Training announces recognition through the following certifying national organizations for providing educational excellence in phlebotomy instruction classes online, the organizations include; American Medical Certification Association, National Center for Competency and the National Association of Phlebotomy Technician Professionals.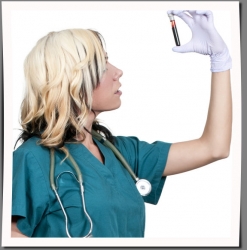 Dearborn, MI, October 02, 2017 --(
PR.com
)-- Phlebotomy Career Training has been propelled into the forefront of the online educational community in being one of the most sought after educational institutions which provide phlebotomy training certification online. The current challenges facing traditional colleges and universities, including higher tuition, budget cuts, and course shortages, have caused many students to search for alternatives. With nearly three million students currently enrolled in fully online degree programs and six million taking at least one online course as part of of their degree program, online education has clearly become one of the most higher education alternatives. The continually improving reputation of online learning has also helped fuel Phlebotomy Career Training's expansion nationwide. Initial skepticism has faltered in the face of evidence that show that online learning can be just as effective as face-to-face education.
While most states do not require certification, it is extremely difficult to get a job without one. Phlebotomy Career Training educators understand the importance of offering national certification as part of course tuition for both their online and in class student body. Professor Kimmel states: "We believe that preparing our students with the best possible education. To succeed in this endeavor, we must include national certification with our phlebotomy course."
While certification is not required in all states, most prospective employers are hesitant to hire anyone not nationally certified. National certification indicates to employers that the graduate has succeeded in achieving or exceeding national accepted standards. The national certifying agencies which have granted phlebotomy career training authorization to offer their tests on various disciplines have fully scrutinized the way PCT employs their educational modules and in class instruction. Obviously, having multiple certifying bodies outside of the state approved course certification helps students regardless of their state of residence compete with jobs in phlebotomy side by side those who have been educated in their state. Phlebotomy Career Training has been in business for over 9 years and has trained students not only in their home state of Michigan but have trained students online throughout the United States as well as in multiple countries such as Europe and Asia.
phlebotomycareertraining.com
Contact
Phlebotomy Career Training
Nancy L. Kimmel RN, PhD, CHMM, MSN-FNP-BC
734-762-3220
https://www.phlebotomycareertraining.com
(313)-826-2381
(313)-461-6668

Contact