The Art of Broth Launches in 30 Airports on October 1st
Sipping Broths; not Bone Broth, not tea, but the most innovative new product for travelers in 2017.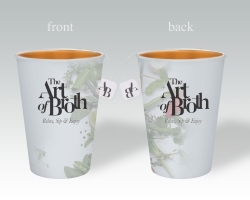 Los Angeles, CA, October 02, 2017 --(
PR.com
)-- The Art of Broth Announces the Launch of Gourmet Sipping Broths; voted the most exciting new food product for travelers in 2017.
The Art of Broth,
www.theartofbroth.com
, announces the highly anticipated launch of Gourmet Sipping Broths in 30 airport locations around the country. As an alternative to caffeinated coffee or tea, Travelers will now be able to purchase individual, steep-able bags of Chicken, Beef and Vegetable "Sipping Broths." The individual servings of "Sipping Broths" are packaged in broth bags (exactly the same size and shape as a tea bag, but this is not tea). The Art of Broth ingeniously designed the packaging to fit into a purse, a wallet or a briefcase, enabling travelers to carry the "Sipping Broths" onto the airplane, to their hotel and even to their office meetings. The Sipping Broths are conveniently designed to be enjoyed "anytime and anywhere." Simply add one broth bag to a cup of 8 ounces of hot water, steep for 2 minutes and then Relax, Sip and Enjoy. All of the "Sipping Broths" are low in calories (15 calories or less per serving), Non Gmo, Gluten Free, Vegan, Kosher and most importantly Delicious.
Prior to its official launch, The Art of Broth was showcased at a Global Travel conference held in June 2017 in New York and named the Best New Product of 2017 for the Travel Industry. This past week, The Art of Broth was praised as the most exciting new product at the IFSA (airline show). IFSA was attended by executive chefs, food and beverage directors and key executives from the airline industry, looking to source exciting new products for their customers.
What are Sipping Broths: Sipping Broths are delicious and low calorie hot beverages enjoyed as much for their Gourmet Flavor as for their calming effect. For travelers, office workers and everyone on fast paced demanding schedules, the Art of Broth provides a break from the stress of our fast paced lives to simply Relax, Sip and Enjoy a soothing cup of Delicious and Low Calorie Broth. According to Jody Helfend, founder and CEO of The Art of Broth, "Our customers are 'on the go', racing for a plane or running between office meetings. There is a void in the marketplace for healthy, low calorie hot beverages to be enjoyed as a nourishing, 'pick me up' in the afternoon and evening. Our philosophy of taking 5 minutes out of our hectic days to Relax, Sip and Enjoy support our customers' lifestyle.
"We are initially focused on serving the needs of travelers; in airports, on airplanes and in hotels, providing convenient access to our 'Sipping Broths' throughout our customers travel schedule. The Art of Broth is now available for travelers at 30 HMS Host airport locations and at the Venetian Hotel and Casino, a leading destination for convention travelers. In the next few months, we expect multiple airlines will be serving the Art of Broth on domestic and international flights." The Company's website
www.theartofbroth.com
is open for consumers to order their favorite flavored broths to be shipped directly to their homes or offices.
About The Art of Broth
The Art of Broth family has spent over 50 years in the food service industry, producing the highest quality soup and stock bases for the most demanding executive restaurant and hotel chefs. By combining three generations of culinary artistry with the ingenious design of the teabag, The Art of Broth has created a new, delicious and convenient way for consumers to enjoy gourmet broth, anytime and anywhere. "The "Art of Broth" represents our philosophy in life; that each of us should take a moment every day out of our busy lives to relax and enjoy each
www.theartofbroth.com
delicious moment.
"Relax, Sip, and Enjoy." For more information, please visit
www.theartofbroth.com
.
Contact
To learn more about this product:
Jannel Fortu
Office: 818.715.9320
jannel@theartofbroth.com
Contact
The Art of Broth
Jody Helfend
818-715-9320
www.theartofbroth.com
jannel@theartofbroth.com

Contact