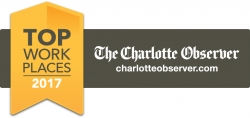 Atlanta, GA, October 03, 2017 --(
PR.com
)-- Insight Global's Charlotte, N.C. office has been awarded a 2017 Top Workplaces honor by The Charlotte Observer. The Top Workplaces lists are based solely on the results of an employee feedback survey administered by WorkplaceDynamics, LLC, a leading research firm that specializes in organizational health and workplace improvement. Several aspects of workplace culture were measured, including Alignment, Execution, and Connection, just to name a few.
"It is an absolute honor to be recognized as one of Charlotte's Top Places to work," said Director of Operations Matt McCuen. "To have our employees express how happy and passionate they are about working in our company is truly great to hear and see. We all have a collective belief in the strength of our culture. While our team work ethic is second to none, what truly makes us special are the strong, personal relationships made in our everyday workplace with one another. Personally, after 13 years with Insight Global, I have never been happier. It's great to see that others share those feelings as well."
Insight Global has previously received the Top Workplaces honor in many other markets, most recently Nashville, Tenn., Richmond, Va., South Florida, Atlanta and Philadelphia. These awards can be viewed in the following publications: The Tennessean, The Richmond Times-Dispatch, Sun Sentinel, Atlanta Journal Constitution and Philly.com.
Insight Global is actively hiring internally for its Recruiter/Account Manager positions and is accepting applications through the website at Insight Global Careers.
About Insight Global
Insight Global is a premier staffing services firm with 43 locations in the U.S. and Canada. Insight Global provides contract staffing for IT and Accounting, Finance and Engineering through its AF&E division. The company has been ranked one of the fastest growing staffing firms for the past 10 consecutive years and named the 3rd largest IT staffing firm in America by Staffing Industry Analysts. Insight Global will continue this growth by continually expanding office locations and new markets. Insight Global employs over 33,000 people in companies each year with revenues over $1.5 Billion.
About WorkplaceDynamics, LLC
Headquartered in Exton, PA, WorkplaceDynamics specializes in employee feedback surveys and workplace improvement. This year alone, more than two million employees in over 6,000 organizations will participate in the Top Workplaces™ campaign—a program it conducts in partnership with more than 40 prestigious media partners across the United States. Workplace Dynamics also provides consulting services to improve employee engagement and organizational health. WorkplaceDynamics is a founding B Corporation member, a coalition of organizations that are leading a global movement to redefine success in business by offering a positive vision of a better way to do business.