Producer Actor Lily Lisa Recipient of Arts 4 Peace Award
Arts 4 Peace Awards recognizes Philanthropist, Lily Lisa for her work with the homeless.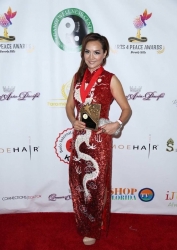 Los Angeles, CA, October 06, 2017 --(
PR.com
)-- Lily Lisa, known throughout the world and Hollywood as Lucky Lily, graciously accepted the 2016 Art 4 Peace Award for the tireless work she has done to bring attention to those less fortunate. Lily Lisa, although from Hong Kong, travels all over the world bringing her message of love and hope to thousands. Her continuous devotion to humanity and her and passion for equality are beyond measure. She is truly a role model to women, an example of grace, class, dignity, love, style and peace. Lily Lisa has been recognized as a powerful force within the entertainment industry and society. But she is clearly more than that. She is on her way to becoming one of China's most influential woman in Hollywood.
The Arts for Peace Award is given to those who exemplify good works through charity. Lily accepted the Award with gracious humility, noting that there is much to be done to bring love and peace throughout the world. Lily is always searching for resources and people who share her vision of helping those less fortunate.
As a high profiled executive producer, Lisa combines her sense of fashion and elegance on the red carpet. Through high visibility, she has made significant contributions to organizations that support her dream of making the world a better place.
From a very young age she knew her gift was to inspire others. After completing her formal education, she became a sought after model. Eventually her grace, poise, and beauty landed her on the pages and runways of Hong Kong, winning the "Most Elegant Model" award. Lily has since become a cultural and fashion icon, and has continued to be recognized throughout the world for her incredible energy and beauty. For two years in a row, she was named in The Hurun Report's Ambassador's Polo Cup "Most Elegant Lady."
As a philanthropist and a social activist, Lily continues her work within the community, earning multiple awards and honors for her good works. Among those are the "We Care for Humanity's Woman of the Year of Asia" Award in 2013. In addition, she has received numerous awards for her tireless work, including "Honorary Ambassador" in 2014, and the "Ambassador of Hong Kong, China."
"The World Networks honored her in 2015 and the same year she received one of the most prestigious awards in America, that is, "Certificate of Congressional Recognition," from US Congresswoman, Judy Chu.
Upon her arrival to Los Angeles Lily was shocked by the city's growing homeless population and the poverty so close to one of the wealthiest communities in America. She then decided to produce a documentary series that would hopefully gain global attention to the issue of homelessness, not just in Los Angeles, but throughout the world.
As an Executive Producer and host of her own show, she has successfully helped countless families and giving voice to low income communities and assisting them in becoming sustainable. Her film project won the "Outstanding Documentary Award 2015" at the International Film Festival in Hollywood.
It has been shown all over the world. As famed acting teacher, Bobbie Chance once said, "Lily, I know you and your generous spirit and beautiful heart, I am so proud of your accomplishments."
Every day Lily continues to work towards making a difference, and encourages others to give back.
She continues to garner as much respect behind the camera as she does in front of it. As Kimberley Kates, CEO of Big Screen says, "Lily has found her way into the Big Screen family, and lives up to her nickname "Lucky Lily" as her work and talent bring Luck to every project she has been involved with." Creative Director Warrant Satt has said, "Lily Lisa is extremely talented and has superb relational skills. She knows her business and is trustworthy. What an amazing experience it is to be able to have such an incredible visionary on your team."
Lily Lisa is on a mission. That is, to show that everyone in this world must count for something. Everyone needs not only food, clothing and a place to live. They need to know that someone cares for them. That someone loves them.
Lily Lisa has earned the title of Lucky Lily Lisa. She brings luck to everyone whose life she touches.
Contact
TRC - The Right Connection
Lily Lisa
1-310-668-1988

Contact