FruThin Weight Loss Tablets Now Available in Asia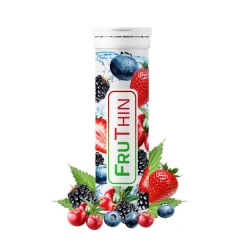 Highlands Ranch, CO, October 11, 2017 --(
PR.com
)-- Maintaining a healthy weight protects the body from many diseases, some of them difficult to treat. However, sometimes one can fail to do this job, often due to circumstances beyond their control. On the other hand, it is known that some simple lifestyle choices can keep the weight of a person within some normal limits. These include consuming healthy food as vegetables and fruits, exercising regularly, avoiding bad habits like alcohol, getting enough sleep, etc. Also, there are supplements that can give additional help with coping in the extra pounds.
A brand new supplement, created to help overweight people achieve a healthy weight, thus avoiding obesity, emerged on the Internet. Its name is FruThin and it differs from the other products of this type, because it is produced in the form of dissolvable tablets. The FruThin formula is based on four active components - wild blueberries (one of the leading antioxidant superfruits, which boosts the metabolism in a natural way), northern mulberry (containing high levels of iron, which can significantly boost the production of red blood cells. In this way the body increases its distribution of oxygen to important tissues and organ systems, thus helping to boost metabolism), strawberry (promotes weight loss due to the presence of various nutrients, which help to stimulate metabolism and reduce appetite), and vaccinium macrocarpon (detoxifies and flushes toxins from the body and boosts the immune system).
As a beginning, FruThin will be available on the Asian online market, then the manufacturing company will spread to Europe, USA and South America.
Contact
Keith Rogers
203-807-2487
http://www.fruthin.com

Contact