Coronet Offers First of a Kind Protection Against KRACK
Coronet's Security Solution Delivers End-to-End, Outside The Perimeter Security Including Newly Discovered WPA and WPA2 Vulnerability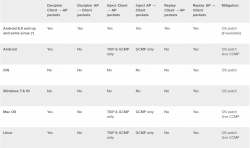 Tel Aviv, Israel, October 19, 2017 --(
PR.com
)--
Coronet
, an award-winning cloud security company, confirmed today it is the first to offer protection against KRACK, (short for Key Reinstallation Attacks), a newly exposed vulnerability in the WPA2 protocol, which serves as the standard for securing most Wi-Fi connections. Left unaddressed, an attacker can exploit a Man-in-the-Middle (MITM) position and circumvent existing WPA / WPA2 protections, creating a window and access to corporate data for both data stream inspection and packet injection.
The KRACK exploit was exposed earlier this week by Belgian researchers who issued a report disclosing the vulnerability. It immediately raised a widespread 5-alarm panic due to the scale and reach of this key exploit of WPA2-based Wi-Fi networks. The researchers describe that a cyber hacker executing a multi-stage attack can circumvent built-in protections into these commonly used Wi-Fi protocols. While most key endpoint vendors (Microsoft, Google, Apple) are working on patches to address KRACK, the expected patch rollout gives cyber hackers a golden hour opportunity, enabling them to execute these attacks. It is important to note that endpoints and IoT devices which are not able to receive the critical patch updates will remain vulnerable indefinitely.
Who is vulnerable?
While any unpatched device connecting to the WPA or WPA2 protocol is vulnerable (see related chart), the largest attack surface are devices running Android 6.0 and higher, representing 48% of all Android devices (approximately 1 billion devices). This select group along with Linux (WPA_supplicant versions 2.4 and 2.5) have a bug that installs an all-zero encryption key (KT), practically exposing these OSes to all vulnerabilities -- in both directions. Some of these Android devices may not be patchable, and as such will remain vulnerable to cyber hackers.
Coronet's cloud security platform is the only available solution in the market that can protect devices from this vulnerability, eliminating the risk -- regardless of the patch availability. The platform's network detection and mitigation layer not only identifies a KRACK attack but also automatically mitigates the threat. The solution identifies threats, risks and issues remediation actions immediately, ensuring end-to-end, outside the perimeter security. All data is protected whether in transit or at rest across four key pillars: users, device, network, and services. Coronet's security platform offers a real solution to KRACK immediately without having to wait for patch updates to be issued.
About Coronet
Based in Tel Aviv, Israel, Coronet is an award-winning, privately-held company. It is the first company that enables any sized organization to fully secure all BYOD, SaaS and cloud services without any integration or customization, containers or proxies, or other tools that limit users, impact their experience, or inhibit productivity. Requiring zero operator involvement, Coronet's patented platform continuously identifies risks and threats to ensure that only trusted users, using trusted devices, connecting through trusted networks to trusted cloud services can access corporate data. Based on those risks, it automatically controls applications users can use, activities users can perform, and data they can access. Coronet has offices in New York, Boston, North Carolina and Frankfurt, Germany. Interested parties can visit www.coro.net to obtain more information.
Contact
Ignite X
Carmen Hughes
650-576-6444
www.ignitepr.com
Skype: Carmen_hughes

Contact