Flite Test to Hold First Ever Flite Fest South Event in Florida
R/C Pilots Gather at Lake Wales Airport for 3 Days of Flying.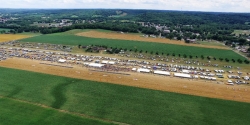 Lake Wales, FL, October 19, 2017 --(
PR.com
)-- Popular radio-control (R/C) YouTube channel Flite Test will hold its 7th Flite Fest event Novemner 3rd–5th at Lake Wales Airport in Lake Wales, Florida. Anticipated to be one of the largest R/C events ever held in Florida, featuring countless radio-controlled (RC) planes and multirotors. Hundreds of spectators, RC pilots, volunteers and vendors are anticipated to join the North Canton-based YouTube sensation, Flite Test, for four days of family fun, flight and fellowship.
"We are excited to hold our first ever Flite Fest South," said Josh Bixler, Flite Test president and host. "We hope that this event will continue our passion to educate, entertain and elevate the world of flight through a family-friendly event."
Pilots and spectators from dozens of states are expected to participate in-air RC combat exhibitions, FPV (First Person View) races and several community flying events over the three-day event. In the spirit of Flite Test's mission of entertaining, educating and elevating the world of flight, attendees share their passion, knowledge and experiences during what has been called a family reunion for the RC aircraft community.
In addition to model aircraft flying, RC sponsors and vendors, Flite Fest South will feature skydiving, paramotoring, real airplanes and a weather-dependent hot air balloon launch. The event will also have a build tent with ample tools and supplies for attendees to build aircraft as well as repair planes damaged during the various combat events.
Evenings at Flite Fest evoke the family-friendly atmosphere found throughout the event, with communal Night Flies, nightly bonfires and a pilot skills workshop.
"The cornerstone of Flite Test is our wonderful community," said Bixler. "Connecting with community members at Flite Fest is truly a special experience, and we love sharing our passion for this great hobby. We are extremely thankful for all the volunteers, pilots and spectators that help make our event so successful."
Flite Fest is an event by flight enthusiasts, for flight enthusiasts. The festival embodies the camaraderie of the RC community, bringing together people passionate about flight in one jam-packed weekend.
For more information on Flite Fest South, visit
www.flitefest.com
.
For more information on Flite Test, visit
www.flitetest.com
.
Contact
Flite Test
Austin Furey
330-933-2151
flitetest.com

Contact