High School Juniors and Seniors Think They Are Failing Emotionally
The New #StrongGirls Initiative empowers young women to become emotionally intelligent to combat the feeling of emotional failure teens are experiencing. Media Personality and Co-Founder of The Keitt Institute, Jennifer Keitt, offers parents and educators 3 tips for helping empower teen girls to build their emotional intelligence.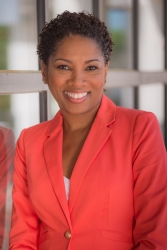 Atlanta, GA, October 20, 2017 --(
PR.com
)-- #StrongGirls Initiative Empowers Young Women to Become Emotionally Intelligent
High school juniors and seniors rate themselves a "69" emotionally in "confidence to succeed," "feeling overwhelmed," "dealing with stress," and "staying motivated," according a new findings conducted by The Keitt Institute's #StrongGirls program. Low ratings in these areas make it harder for these young women to succeed.
"I was astonished to learn that future leaders rate themselves so low when it comes to things like being optimistic, positive, and avoiding procrastination," says Jennifer Keitt, co-founder of The Keitt Institute. "Young women need a fighting chance to succeed on all levels, and this program ensures they are given the opportunity to excel by providing resources these girls need to stay emotionally well and healthy throughout the school year."
The #StrongGirls initiative is designed to teach young women who they are, what they're talented at, why they do what they do, emotional intelligence and how to have healthy, productive relationships. Jennifer offers these suggestions for parents, teachers, administrators and teens to boost emotional stability:
Decipher how you are feeling: Be a detective of your emotional state. Teach young women to decipher what they're feeling at all times. Don't let her get away with saying: "I'm fine," or "Nothing's wrong," or "I'm ok" because those aren't emotions.
Develop an emotional vocabulary: By teaching a young woman to name what she is feeling, we empower her to respond appropriately. Emotions have a way of taking us into dark places, and by teaching her to name what she's feeling she can fix it.
Display emotions appropriately: Today's teens take to social media to tell how they feel, sometimes in the form of bullying or disrespecting others. If we teach young women how to respond to the emotions they are feeling in an appropriate manner—using self-control, taking a walk to cool off, journaling—then we are giving them a chance to develop emotional intelligence.
The Keitt Institute
Jennifer and her daughter Morgan Holmes co-founded The Keitt Institute. The Keitt Institute helps women become stronger and more confident, helping them control their lives and live powerfully. The Keitt Institute created the #StrongGirls Initiative—which has partnered with five high schools to equip young women with the tools to discover their unique purpose. #StrongGirls takes young women on a three-session journey where the participants come out with a clear picture of themselves, their abilities, their purpose, and they gain an understanding of how to control their emotions and develop strong, healthy relationships. In each session, young women have their lives unlocked in order to realize their unique contribution to the world.
www.keittinstitute.org
Jennifer Keitt
Recognized as one of the most engaging and powerful voices on the airwaves, Jennifer Keitt is a media personality, co-hosting Slow Jams weeknights with her husband Tony on KISS 104.1FM in Atlanta. For three decades, she has represented the power and perseverance of women, challenging them to invoke change and conquer the world in unique and creative ways. Her passion for people and gift for helping listeners realize the amazing power they possess shines through in every broadcast.
www.jenniferkeitt.com
.
SKCG
Samantha Keitt
(678) 773-4789
Samantha@samanthakeitt.com
Contact
The Keitt Institute
Samantha Keitt
678-773-4789
keittinstitute.org
Jennifer Keitt
404-697-0104

Contact