Molecular Glasses Inc. Expands Operations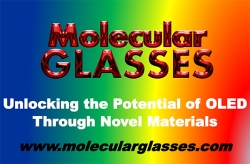 Rochester, NY, October 23, 2017 --(
PR.com
)-- Molecular Glasses, Inc. announced today that operations have expanded into a larger laboratory and office space at Eastman Business Park. Additionally, the company has added critical team members to accelerate ongoing development and commercial activities.
"We continue to assemble a world class commercial and technical team," notes Mike Molaire, CEO and Founder of Molecular Glasses. "We will be increasing market engagement activities in the immediate term and are staffing accordingly. We are also expanding our technical capabilities in material synthesis and purification, as well as our photophysical characterization capabilities."
Molecular Glasses, Inc. is currently capable of supplying customers for early evaluation, and has identified several partners that can scale its materials for early development support and later provide manufacturing quantities.
The company recently hired Mark Sperry, Dr. Rajarshi Chakraborty, and Dr. Daniel Clark.
Mark Sperry joins Molecular Glasses, Inc. as Chief Marketing Officer and continues to serve as a member of the Molecular Glasses Board of Directors. Sperry has extensive sales, marketing, and financial expertise in both startup and corporate settings, having founded and run multiple clean tech entities. Sperry held roles as CMO and EVP and GM at Plug Power before which he spent 15 years in management at Xerox where he most recently served as VP/GM of the Production Color Business.
Dr. Rajarshi (Raj) Chakraborty, recent graduate of the University of Rochester is the company new OLED Photophysicist. Dr. Chakraborty studied under Professor Lewis Rothberg. He has also collaborated with Professor Ching W. Tang's (OLED inventor) group to design and develop high efficiency solution processed OLEDs.
Dr. Daniel Clark brings extensive expertise in both synthetic organic and organometallic chemistry to Molecular Glasses, Inc. He will be their lead scientist for the design and synthesis of new OLED compounds. Dr. Clark received his PhD from the University of Buffalo with subsequent postdoctoral work at the Max-Plank Institute in Germany.
About Molecular Glasses, Inc.
Molecular Glasses, Inc. is a supplier of patent pending materials to Original Equipment Manufacturers (OEMs) of Organic Light Emitting Diodes (OLED) for use in displays (cell phones and tablets for example), and specialty lighting. These materials will enable OEMs to produce OLEDs with longer device life, higher light output, lower power consumption, and reduced manufacturing costs. This new class of materials is fully compatible with both the current thermal/vacuum deposition manufacturing processes and the emerging printing manufacturing processes (ink-jet, roll-to-roll, etc.). Molecular Glasses, Inc. will derive revenue both from the licensing of patents and the sale of materials. www.molecularglasses.com
Contact: Mike Molaire
585-210-2861
mikemolaire@molecularglasses.com
Molecular Glasses™, NONcrystallizable™, Molaicular™, Molaicular Inside™, ISOmeric™, HIentropy™, SurfaceJET™ are trademarks of Molecular Glasses, Inc.
Contact
Molecular Glasses, Inc.
Mike Molaire
585-210-2861
molecularglasses.com
1667 Lake Ave Suite 508 Rochester, NY 14615-3407

Contact