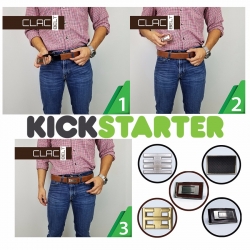 The Woodlands, TX, October 31, 2017 --(
PR.com
)-- One of the newest and most attractive Kickstarter projects was launched: CLAC Belt is a revolutionary magnetic belt that has no holes. It's durable, and lasts infinitely longer compared to any standard belt. It's very easy to wear, really comfortable and also looks amazing. No buckle is needed, but if you are a fan of buckles, you can easily add one to CLAC Belt as a swap out accessory
Luis Popoca, the belt's creator, just launched his project on Kickstarter, an American public benefit corporation that maintains a global crowdfunding platform focused on creativity. You will be able to contribute to Luis's incredible vision until November 24th. If you want to be one of the first CLAC Belt owners, you need to visit the project´s website and pledge for a reward.
Luis, a 38-year-old entrepreneur living in Texas, has been in the leather business for many years. He has worked with some of the biggest tanneries in the world, learning everything about the industry. After sadly watching how a very expensive belt given to him by his father completely wore out over time, his vision of the CLAC Belt was born.
He thought of the endless amount of black belts he had bought over the years just because the holes started to stretch and break. "My goal was to make a belt with no holes or buckle that would always look new, even though everybody told me I was crazy," Luis commented. After his vision had formed, he and his team began researching until they found the specific powerful magnets that allowed them to invent the No Slide System to make this revolutionary belt work. Many samples were made before his design team finally came up with and patented the system that kept the belt secure in place. The final product looks amazing; works great, it's very easy to put on and take off, and can easily adjust to always be the perfect size.
CLAC Belt is made out of top quality leather and is available in four different colors and styles. In addition it has four different buckles presently, however the team is planning to offer different styles in the future and even buckle customization.
An amazing and unexpected benefit to wearing the CLAC Belt was discovered by Luis after testing it. According to Dr. Ralph Sierra*, magnets help the body perform its natural healing process, improve circulation and digestive system functions. (*Power in a Magnet to Heal, 1991) This incredible invention is destined to change the way people hold up their pants forever.
The amazing opportunity to become a part of this project on the ground floor begins October 24th.
Toown one of these new belts and back up his Kickstarter campaign go to
https://www.kickstarter.com/projects/clacbelt/the-reinvention-of-aclassic-dare-to-feel-the-attr
There's an extensive variety of rewards for backers, including a single buckle, limited edition belts and buckle assortment packages. Dare to change, feel the attraction.