7 Insane Things Made by a 3D Printer That Will Blow Your Mind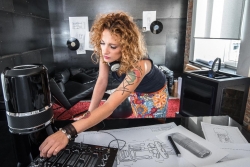 New York, NY, November 16, 2017 --(
PR.com
)-- A 3D printer able to print anything? Since 3D printing technology is still under development, there aren't any machines that give a chance to print literally anything, but it is just a matter of time. Nevertheless, even nowadays, with the use of 3D printing technology we are able to create really insane things. Zortrax, a leading European manufacturer of integrated 3D printing solutions, presents a list of seven 3D printed items that are mind-blowing.
· Houses
In December 2016, Russian company Apis Cor announced a project whose goal was to 3D print an on-site house with use of a mobile 3D printer. Soon after that, the first house created with the technology had been put up in Stupino town. The most amazing fact about this construction is that most of the house was built in just 24 hours. It wasn't a mansion, but it is still an astonishing result for a 38 sqm building.
· Dresses
Buying a new dress? The main problem might be that you cannot find the perfect one you imagined years ago. Why not 3D print it? New designs are shown year after year on fashion shows around the world, but thanks to the fact that
3D printing
is becoming cheaper, dresses will become more and more affordable.
· Blood vessels
Using 3D printing for medical purposes is probably one of the most researched areas nowadays. Chinese company Sichuan Revotek has recently announced that they have succeeded in implanting 3D printed blood vessels into the body of the rhesus monkey. One month after the surgery, the company announced that printed blood vessels have functioned "exactly the same" as original ones.
· Food
Replacing the standard 3D printer plastic filament with something edible? A 3D printer creates your favorite cake. Hundreds of bakeries have already adapted this technology that enables them to bring not only fantastic taste but also fantastic shape to their wares. Nevertheless, confectionery is not the only area where 3D printers come in handy. Currently, NASA is developing a project of creating 3D printers able to provide astronauts with food during long-term missions. It is only a matter of time until 3D printers replace our ovens, blenders, cookers and other kitchen equipment.
· Rings
Engagement rings, signets, wedding rings, whatever you can imagine. American company Shapeways is one of the biggest jewelry manufacturers that uses 3D printers to fabricate their goods. The idea is simple. The customer designs ideal, custom-made pieces of jewelry using computer software and uploads a 3D model. Once updated, the model is checked for 3D printing viability, printed, cleaned and delivered. The process may take a while but having your own customized ring is worth it.
· Drone
Just like 3D printers, drones are becoming more popular and affordable. Nowadays they are affordable to almost everyone, and it is quite fun to have one for your personal use. They tend to break quite often. Even a collision that looks harmless at first sight may cause damage to some of your drone's parts. That is why some people started to develop 3D printed ones. The main purpose is to replace the drone's broken parts as soon as possible and come back to play. By googling "3D printed drone" you will find hundreds of open-design projects available for you online. Have fun.
· Pills
The first 3D printed drug was approved by the FDA (Food and Drug Administration) two years ago. The medicine, called Spritam levetiracetam, has been developed to help patients with epilepsy. The pill manufacturer - Aprecia Pharmaceuticals – created the product by deposing the medication powder layer after layer until it reaches the certain dose.
This is a list of seven 3D printed things that are mind-blowing. 3D printing applications' world is vast and it is about to become endless in a near future.
Contact
Zortrax
Marcin Niedzielski
+48 22 448 70 00
https://zortrax.com

Contact