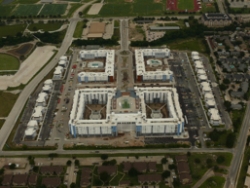 College Station, TX, November 03, 2017 --(
PR.com
)-- St. Petersburg, Florida-based Power Design partnered with Weitz Construction and Servitas to add 3,400 beds to their student housing portfolio with Park West at Texas A&M University (TAMU). The complex includes 15 buildings across 50 acres, making it the largest P3 student housing project in the country. It features upscale amenities including three resort-style pools, a 50,000 SF rooftop deck, three fitness centers, sand volleyball court, convenience stores, firepit, grills, and more.
With more than 40 student housing projects completed and eight more underway, Power Design is established as one of the nation's premier electrical contractors serving the student housing market.
"As a design-build project, we were able to contribute to the overall success of TAMU every step of the way," said Power Design's West Regional VP, Rob McMillian. "Starting with efficient electrical design, to covering a massive footprint, and finishing strong with our fire alarm team ahead of schedule, this project was a huge success for the entire team and university."
Weitz Vice President, Shane Bauer said, "Most projects of this size have a much longer duration," said Bauer. "To finish in two years, we engaged our in-house experts and subcontractor partners early in the fast-track design-build process and also implemented lean construction practices, keeping all parties fully committed throughout the build process."
The TAMU project is Power Design's largest completed contract value to-date at roughly $22 million. The company has two more student housing projects in production in College Station, several in Austin, and one in San Antonio.
About Power Design, Inc.
With more than 200 active projects, a 133,000-square-foot national campus, a 100,000-square-foot distribution center, and accumulative revenue exceeding $2 billion dollars, Power Design is one of the leading electrical contractors in the United States. With a 16,000-square-foot training center dedicated to core training and hands-on simulation experiences to provide real-life applications, Power Design is at the forefront of innovative training practices and techniques.
Since founded in 1989, Power Design has operated as a family-run business built on an unbending foundation of quality service and loyalty to our employees and customers. Our commitment to customer service has enabled us to partner with the top 100 general contractors as ranked by Engineering News-Record (ENR). For more information visit: www.powerdesigninc.us or call 727.210.0492.