The Greatest of All Time: Tennessee Mass Choir Celebrates Its 27th Year Anniversary and Launches Inaugural Concert
Known as one of the greatest gospel groups in the country, The Tennessee Mass Choir will bring together the best in gospel music at the 27th year anniversary celebration, Music From The Masses, on November 18th.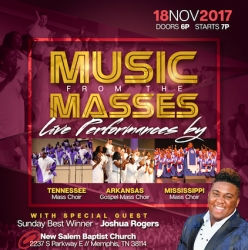 Memphis, TN, November 04, 2017 --(
PR.com
)-- Live performances featuring The Tennessee Mass Choir, The Arkansas Gospel Mass Choir, and the award-winning Mississippi Mass Choir will take place, alongside other exciting performances by special guests.
The Music From The Masses concert event and movement is intended to convey a message of unity, love, hope and strength of community, and also pay tribute to the founder of The Tennessee Mass Choir, the late Fannie Cole Clark of Memphis, TN.
Mrs. Clark, renowned educator, community activist, musician, and recording artist, led the choir to soaring heights, performing at numerous high-profile events, including the Titanic Exhibition and the Memphis Sunset Symphony.
Now under leadership of her youngest son, Grammy nominated music producer, Jason Clark, The Tennessee Mass Choir continues to travel down a starlit path. "My mom would often express how she wanted our choir to do concerts with other mass choirs like Mississippi Mass, so a portion of this is definitely about honoring her legacy," says Clark.
Following down the road paved by his mother, Jason Clark and The Tennessee Mass Choir have soared to even greater heights, performing in various genres of music with nationally acclaimed artists, such as country music star Martina McBride; soul band St. Paul and the Broken Bones; and legendary rock band Foreigner, allowing them to take their exuberance for ministry beyond the boundaries of Gospel music.
"Our city, our country, and the world need to see more presentations of togetherness," says Clark. "We aspire and are inspired to do our part presenting that."
Music From The Masses will feature special guests: BET Sunday Best Winner Joshua Rogers; Carla Tolbert-Taylor; Camillia Reed of Houston, TX; Josh Bracy and Power Anointed; and Everett McBee.
The concert will be held at 7:00 PM, Saturday, November 18th at New Salem Baptist Church, 2237 South Parkway East in Memphis, TN. Tickets are $10 in advance, $15 at the door, and $25 VIP.
For more information and details visit: www.MusicFromTheMasses.org
Contact
Music From the Masses
Jason Clark
901-503-4611
www.MusicFromTheMasses.org

Contact