Eyecheck Launches PRISTENE™ for Dry Eye Syndrome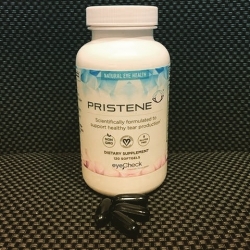 Oak Forest, IL, November 06, 2017 --(
PR.com
)-- Eyecheck, LLC announced today the formal launch of PRISTENE™, their second in a family of eye health supplements. "It is gratifying that our company has made such great progress in 2017 and we are so pleased to now offer PRISTENE™ to our clinicians and their patients to assist in support of the production of health tears," stated Tony Moses, CEO of Eyecheck.
"Dry Eye is a common condition with more than 3 million reported cases per year in the US alone. The risk of acquiring this condition increases with age and it is seen more commonly among post-menopausal women."
PRISTENE™ was scientifically formulated to support healthy tear production and contains Omega 3 Algal Oil. Algal Oil is vegan and not sourced from fish like traditional Omega 3 supplements. Omega 3 fatty acids are not produced by the body, so they must be obtained through diet or vitamin supplements. In addition, PRISTENE™ contains the natural antioxidant maquiberry, which has been shown in clinical studies to increase tear fluid production.
"PRISTENE is the perfect complement to our flagship product, Macutene® Protect, which was formulated as the first and only natural, Non-GMO, gluten free, Certified Vegan formulation based on AREDS/AREDS 2 clinical trials for natural eye health."
"We officially launched our company in 2017 and we are pleased with the acceptance of Macutene® Protect within both the eye care professional community and our growing patient customer base. Today, we are a small company of dedicated employees who possess big dreams and who begin each day with the thought of doing what is right for the patient and the physician."
About Eyecheck, LLC
Eyecheck is a privately held company based in Oak Forest, Illinois and focused on developing and marketing the best natural, Non-GMO, gluten free, Certified Vegan eye health supplements for optimal eye nutrition. In addition, Eyecheck provides physician offices with the ability to attract new patients and to better understand the needs and expectations of their existing patient population. For patients, Eyecheck offers both a comprehensive library on ocular conditions and self-diagnostic online tools to help patients monitor their visual health. For more information, please visit the company website at
www.eyecheck.com
.
Contact
Eyecheck, LLC
Tony Moses
510.402.3394
eyecheck.com

Contact