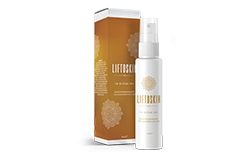 Dearborn, MI, November 08, 2017 --(
PR.com
)-- LiftoSkin LLC introduces a new anti-aging product, that claims to work - LiftoSkin rejuvenation serum is a product, designed for males and females of any age or skin-type. Actually, LiftoSkin is specifically created to improve texture and skin elasticity, and to balance and prevent the loss of moisture in the skin. The serum contains antioxidants which nourish and revitalise the skin. It penetrates into the deeper skin layers, thus reducing pigmentation. Other properties include stimulateing cell regeneration and enhancing the effect of other beauty products.
Serums formula includes camellia sinensis leaf extract, rosmarinus officinalis flower extract, centella asiatica leaf extract, together with numerous other active ingredients to slow the indicators of aging. Aditionally, with its Hydrolysed Elastin and Hydrolysed Collagen, LiftoSkin's consumers will have their cells renewed, will experience decreased wrinkles, and will have a more vibrant skin. LiftoSkin is a non-greasy formula, which absorbs efficiently into the skin. The serum will not cause irritations if the user does suffer from sensitive skin.
LiftoSkin is already available for purchase at the distributor's official website. As can be checked, at the moment a 50% discount is announced. There is also a discount for purchasing 2 or more products. Again, according to the official website, the delivery of the product is free and payment method is cash on delivery.