This Boston Chef Has Cooked Thanksgiving Dinner Every Day for 20+ Years
Jay Hajj, the chef-owner of beloved Boston casual dining landmark Mike's City Diner, has served Thanksgiving dinner every day for more than 20 years, learning plenty of secrets along the way. His turkey dishes are widely proclaimed among the best in America. This native of Lebanon shares the secrets to perfect all-American Thanksgiving dinner in his new "Beirut to Boston" cookbook.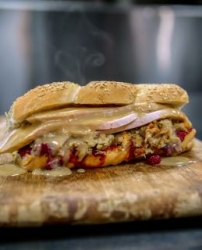 Boston, MA, November 09, 2017 --(
PR.com
)-- Chef Jay Hajj is New England's resident master of Thanksgiving dinner.
After all, the owner of beloved
Mike's City Diner
in Boston's South End has cooked fresh-roasted turkey and Thanksgiving dinner every weekday for more than 20 years. Turkey in turn has made Mike's an American casual-dining landmark.
The fact that Hajj is an immigrant who fled the violence of the Lebanese Civil War makes his mastery of the all-American meal all the more remarkable.
Mike's City Diner today serves turkey hash, turkey soup, turkey clubs, turkey meatloaf, complete turkey dinners and, of course, the diner's signature Famous Pilgrim Sandwich – an entire Thanksgiving dinner in a single, hand-held package.
The Boston Herald once proclaimed Hajj Boston's "Bird Man!" in a bold front page headline. Boston Magazine has declared Mike's Famous Pilgrim "a restaurant legacy." The Food Network named Mike's Famous Pilgrim 1 of the 5 best Thanksgiving meals in America.
Hajj devotes an entire chapter to turkey in his 2017 cookbook, "
Beirut to Boston: Comfort Food Inspired by a Rags-to-Restaurants Story
." Titled "The All-American Two-Turkey Thanksgiving," the chapter includes Hajj's three secrets to cooking the perfect turkey:
· Brine the bird days ahead of time to make it as moist as possible
· Dry the bird uncovered in the refrigerator to dry out the skin and make it extra crispy
· And, most notably, use a poultry roaster to cook the bird standing up on its legs!
"The fat melts in a way that makes the meat more tender," writes Hajj, who also cooks Thanksgiving dinner at home each November for 50 guests from his large Lebanese-Irish-American family. "We cook thousands of turkeys at Mike's every year, and this technique is one of our signature secrets."
Of course, the chapter also includes all the delicious recipes that makes Hajj New England's resident master of Thanksgiving dinner.
Jay Hajj's Turkey Meatloaf (from the "Beirut to Boston" cookbook)
Dash of olive oil
2 medium onions, finely chopped
3 cloves of garlic, crushed
3 tbsp kosher salt
2 tsp black pepper
¼ cup Worcestershire sauce
1 cup Mike's signature whole turkey stock, or favorite poultry stock
1 tbsp tomato paste
5 lbs. fresh ground turkey
2 cups bread crumbs
3 eggs
1 cup ketchup
Preheat the oven to 375 degrees. Heat the oil in a sauté pan with onions, garlic, salt and pepper until the onion is translucent. Add the Worcestershire sauce, stock and tomato paste and mix well. Let cool to room temperature. Combine the ground turkey, breadcrumbs, eggs and onion mixture in a large bowl. Mix well and shape into a rectangular loaf in a bread pan or simply shape it on an ungreased sheet pan. Spread the ketchup on the top. Bake for 1 hour or until the internal temperature reaches 160 degrees. Wait about 10 minutes then slice.
Contact – Kerry J. Byrne, 617-797-0408, kjb@kjbtrending.com
Contact
KJB Trending Hospitality
Kerry J. Byrne
617-797-0408

Contact