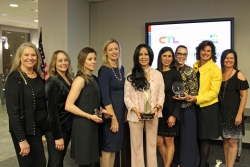 Chicago, IL, November 10, 2017 --(
PR.com
)-- The ATHENA award is given to an exemplary leader who has achieved excellence in their business or profession, served the community in a meaningful way and, most importantly, actively assisted women to achieve their full leadership potential. ATHENA International is a women's leadership organization that supports, develops and honors women leaders through the programs it administers. ATHENA's flagship program, the ATHENA Leadership Award® Program, has honored over 7,000 women leaders from hundreds of cities and eight countries since its inception in 1982.
At a private reception hosted by Quarles & Brady LLP the following women leaders where recognized:
Sophia Leaguedi, Founder and President of Ameroc Export Inc., received the ATHENA Leadership Award.® Ameroc is specializing in exporting US made Heavy Equipment, Industrial Tires, Automotive Lubricants and Accessories to Africa, Middle East Central America and the Caribbean.
ARA Founders: Jane Hamner, Managing Director and Vice President, Harey Nash; Leslie Vickery, CEO and Founder, ClearEdge Marketing and Megan McCann, President and Founder McCann Partners were presented with the Athena Organizational Leadership Award.® Ara Aspires to attract, retain and advance women in technology by cultivating and nurturing relationships via mentorship and programs; thereby building strong female leaders to support and influence the IT community.
Kara Bachman, Executive Director at the Chicago Sports Commission received the ATHENA Emerging Leader Award. The Chicago Sports Commission (CSC) launched in 2011 as a part of Choose Chicago, the official destination marketing organization for the city of Chicago.
Photo L-R (KL Daly, CTL Global; Jill Bhenke, Countryside Bank; Kara Bachman, Chicago Sports Commission; Nicole Murray, Quarles & Brady LLP; Sophia Leaguedi, Ameroc Export Inc.; Leslie Vickrey, ClearEdge Marketing; Megan McCann, McCann Partners; Jane Hamner, Harvey Nash; and Jackie d'Escoto, Maginox, LLC.