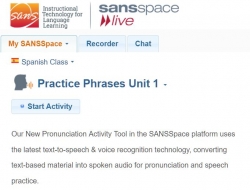 North Branford, CT, November 15, 2017 --(
PR.com
)-- SANS Inc., Software and Network Solutions, has announced the introduction of a new Pronunciation Activity Tool integrated into SANSSpace™, the company's web-based interactive language learning platform. It will be highlighted this week at the American Council on the Teaching of Foreign Languages (ACTFL) Conference in Nashville, TN.
SANS has developed this new pronunciation practice tool using the latest text-to-speech and voice recognition technology, converting text-based material into spoken audio for pronunciation and speech practice. Using the tool, students can view a textual word or phrase, listen to it being spoken in the target language, then repeat and record their speaking. The tool analyzes the student's voice and provides feedback by highlighting any words that were mispronounced and assigns a percentage of correctness to the student's response. Students can review their recording and self-assess to move forward or repeat the exercise as many times as needed.
As a productivity tool, language educators will create unique pronunciation exercises that align with their curriculum. Once created, they may be embedded into a SANSSpace LIVE course for students to access in school or can be solely used for self-study at home, anytime, anywhere. The pronunciation activity tool joins a host of other content creation tools in SANSSpace for language teachers to develop authentic, meaningful, communication-centric activities to engage their students.
According to Ron Remschel, SANS president, "Our new Pronunciation Activity Tool is part of our continued web-based instructional technology development. SANS is committed to helping language teachers integrate technology into their curriculum with focus on authenticity and real-world learning. We look forward to speaking with many language educators at ACTFL to get their individual feedback about how they would use this tool to increase student production."
The SANS Pronunciation Activity Tool will be shown at the ACTFL Conference in Booth #413, November 17-19, in Nashville, TN. In celebration of the kick-off, SANS will be doing a "Try It Here" Promotion with a drawing for a chance to win a tablet PC.
SANS Inc. is a leading U.S. based, instructional technology provider for language learning programs – FL, ESL, and ASL. Technologies include the SANSSpace™ LIVE web-based, mobile language learning platform for synchronous and asynchronous learning and the Virtuoso™ and Soloist® networked digital language lab software suite. SANS is committed to providing software solutions that address teaching and learning modalities and work within the IT framework of the school or government agency using it. For more information, visit
www.sansinc.com
or email
moreinfo@sansinc.com
.
The American Council on the Teaching of Foreign Languages (ACTFL) is dedicated to the improvement and expansion of the teaching and learning of all languages at all levels of instruction. ACTFL is an individual membership organization of more than 12,500 language educators and administrators from elementary through graduate education, as well as government and industry. - See more at: https://www.actfl.org/
SANSSpace and SANSSpace LIVE are trademarks of SANS Inc. Virtuoso and Soloist are trademarks of Sony Electronics and incorporate SANS and Sony technology.