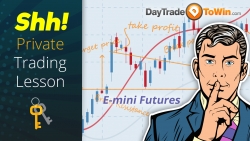 Boca Raton, FL, November 15, 2017 --(
PR.com
)-- Day trading involves first downloading trading software onto a regular computer. The software is then configured to receive live price data from the financial markets. The data is processed and displayed on the chart. There are many ways to display this price activity. John Paul prefers using candlestick charts and a five-minute time frame to provide an accurate picture into market behavior. This is the definition of "price action" unknown to most traders.
In the first class, students learn a basic, yet powerful price action strategy called the At the Open 2. The ATO 2 focuses on finding winning opportunities soon after the market opens. The accompanying software is displayed on the chart as an indicator. Most trading indicators are useless as the public uses them currently. ATO 2 software provides text signals that indicate expected price direction and is objective by nature.
Learning to trade is not easy. Without the proper know-how and guidance, the normal Joe trader has no real chance of success. Millions of dollars are spent every year developing algorithms designed to find or create profitable opportunities to manipulate the world's financial markets. Uncertainty in trading can be disastrous and risky for the beginner.
The appeal of day trading is understandable. These days, non-traditional forms of income are more popular than ever before. While day trading involves significant financial risk, the potential for big profits is alluring. For these reasons, traders are encouraged to use funds for that purpose of risk capital. A trader must accept the possibility of a loss. Licensed brokers and financial advisors can help answers specific questions.
Practice, practice, practice! DayTradeToWin reviews and provides students with a complete practice simulator environment to ensure traders get their feet wet without any cost. It's important to take the time to understand every aspect of trading before risking real money and making costly mistakes. During the eight weeks, students learn over 10 different trading methods. All courses and software are included in a packaged price much lower than purchasing each individually from the DayTradeToWin.com website. Because the class is eight weeks, students encounter a variety of trading days. Email support is included, and students are encouraged to reach out and ask questions. Each class is recorded for future playback which makes learning that much easier.
Early enrollment is encouraged, as classes fill up early. With enrollment, a student receives the ATO 2 course, software, full support and installation before the start of class. This allows students to begin practicing right away with their trading software correctly set up.
To enroll in the November 21, 2017, Group Mentorship class, visit or call DayTradeToWin.com at 1-888-607-0008. The first week's materials are provided right away.