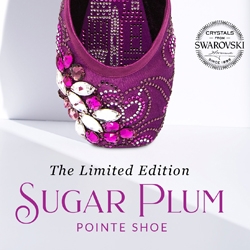 Totowa, NJ, November 14, 2017 --(
PR.com
)-- Capezio, the leading dancewear design and manufacturing company since 1887, is kicking off the holiday season to a sparkling start with the release of their Sugar Plum Fairy pointe shoe, the second installment of their festive collection.
Each installment of the "limited edition" collector's item is inspired by a scene from the timeless ballet, The Nutcracker, and encrusted completely with breathtaking Swarovski® Crystals.
Last year, Capezio launched the very first bejeweled pointe shoe of its collection. The shoe resembled iconic holiday character, the Nutcracker, fully detailed from head to toe in dazzling Swarovski® crystals. The 2016 installment was a record breaking success which sold out quickly to dancers and collectors alike.
Featuring the famous Sugar Plum Fairy scene, this year's installment is encrusted with over 2400 Swarovski® crystals in shades of Amethyst, Fuchsia, Smokey Mauve and Crystal. Details are reminiscent of fairy dust, sugar flakes, and elegant castle backdrops, just to name a few.
This year, prior to releasing the pointe shoe to the general public, Capezio offered a pre-order option to reserve a shoe early, a perk only given to those who had purchased last year's edition.
"We are encouraging people that enjoy collecting to purchase early, as the shoe is limited edition and only a select handful are made each year. Once the shoe sells out, collectors will find themselves waiting for the following year's installment of the shoe," said Kyle Keehan, Digital Marketing Strategist, at Capezio. Because only a limited amount of this one-of-a-kind shoe are made each year, it is crucial for one to purchase the shoe as soon as it is released in order to guarantee their spot at owning this glimmering beauty.
This magical Sugar Plum Fairy installment will be decorating the homes of its collectors as well as bringing joy to dancers' faces when given as a special gift. Capezio advised that this shoe is meant for decorative purposes only and is not intended for wear.
The purchase comes in a beautifully illustrated box featuring the dance of the Sugar Plum Fairies and one Swarovski® Crystal covered pointe shoe with matching ribbon. Visit
Capezio.com
now to get your very own limited edition pointe shoe before it is too late.