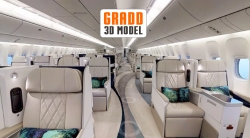 Las Vegas, NV, November 15, 2017 --(
PR.com
)-- GRADD Co. (Global Robot And Drone Deployment) of Las Vegas announced today that it has completed the World's First architecturally accurate
3D model of a Boeing 777 Jet Airliner
.
GRADD Co. based in Las Vegas, Nevada is a company that has expertise in the fields of 3D design, 3D modeling, and creating 3D point clouds from aerial data. GRADD's offerings include a complete suite of software solutions for aerial surverying and mapping, 3D real-time animations, PV solar panel inspections, and high resolution multi-spectral inspections of agricultural farms. GRADD has written curriculum for 3D modeling for Intel Corporation, and continues to innovate in all areas of 3D.
"We are very excited to have expanded our 3D scanning and 3D modeling applications to include a Boeing 777 Jet Airliner. This type of 3D model can not only be used for the purpose of marketing, but also for performing accurate measurements inside the model," said Reza Karamooz, CEO of GRADD Co.
All of GRADD created 3D models are virtual reality compatible and may be experienced from anywhere in the world, using the latest virtual reality equipment.
About GRADD Co.
GRADD CO is a Las Vegas-based Socially Responsible Nevada Corporation. GRADD's mission is to provide its clients with the highest standards in operational services, technical expertise and safety-based training programs for 3D design, 3D modeling, and the Global UAS industry. GRADD also provides professional-grade software and analytical tools, and data analysis services for a variety of industries such as; Precision Agriculture, Land Surveying, Infrastructure and PV Solar Farm Inspections, Law Enforcement, and 3D Aerial surveying and mapping.