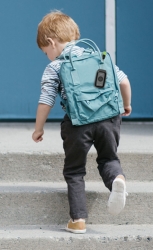 Scottsdale, AZ, November 20, 2017 --(
PR.com
)-- Amber AlertGPS, a leading innovator of communication and connected safety technology for active families, today announced its next generation Amber AlertGPS wearable, that helps address the highest priority for any parent – their child's safety.
Small and lightweight enough for a child to carry around in a pocket or a backpack,
Amber Alert GPS
monitors and relays a child's whereabouts through a powerful online portal and mobile app for iPhone or Android. A big SOS button is easy for a child to use as a panic button or to initiate a 2-way voice call that also sends an alert via text message or email to designated family members.
Safety features and alerts that put parents' minds at ease include multiple geo-fencing capabilities, speed & breadcrumb alerts. Unique to Amber AlertGPS is the ability to automatically send parents an alert when their child comes within 500 feet of a registered sex offender's address.
"Keeping an eye on your little ones can be difficult at times but modern technology has made the job a bit easier," said Julia Howard, COO Amber AlertGPS. "The new wearable enhances protection for children when they are away from their parents or guardians."
With the upcoming holiday shopping season, Black Friday and Cyber Monday, families who purchase the Amber AlertGPS connected safety solution through Dec. 31, 2017 will receive free shipping, free accessories, free first month of service and no annual contract.
To purchase the gift of safety this holiday season, go to
http://www.amberalertgps.com
and enter promo code GIFT2017.
About Amber AlertGPS
Amber AlertGPS is a leading innovator in personal connected safety technology for families. Our products are designed for easy use by children and enable family connectivity and child safety. The Amber Alert GPS wearable incorporates award-winning location technology, 2-way mobile voice communications, smartphone apps, a secure online portal, and customized alerting.