Snobswap Launches First Luxury Wholesale Marketplace for Resale Industry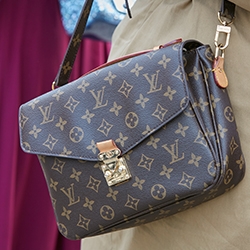 Washington, DC, November 29, 2017 --(
PR.com
)--
SnobSwap
, an online marketplace bringing over 400 verified brick-and-mortar designer consignment and resale businesses online, announces official launch of the first online wholesale marketplace for pre-owned luxury items.
The
SnobSwap wholesale marketplace
allows resale businesses to purchase from vetted, designer second hand stores around the world to restock their store with authenticated pre-owned designer handbags, accessories, and shoes on a mass scale at reduced prices. Conversely, the channel allows resellers to liquidate and sell stale inventory to other businesses. SnobSwap has opened up the channel as a way for the highly fragmented, $25B resale industry to liquidate and buy from each other. Fred Mannella, CEO and Co-Founder of LXR&CO, says "the wholesale marketplace is a highly efficient way for businesses to source a supply chain of vintage, and high-end secondhand luxury items." LXR&Co is publicly traded growing company, and will have a network of over 125 locations in major department stores in Canada, the United States and Europe by the end of 2017.
The wholesale network was launched organically. "We saw store partners purchasing from other stores on the platform and learned that they have a locality challenge - they may not get enough of the best selling supply like Chanel classic flap or Louis Vuitton Neverfull totes from their local consignors. It is not unusual for stores to source more supply outside of their consignor base to make sure they enough product for their customers," says Elise Whang, CEO of SnobSwap.
"SnobSwap has transformed my business. I can now reach customers all over the world and restock my inventory with their wholesale marketplace," says Ellen Didion, owner of Chic to Chic located in Gaithersburg and Frederick, MD. "Their luxury wholesale platform consists of pre-vetted sellers like Chic to Chic from U.S., Japan, and Europe which saves all of us time having to do the research on trusted sources and time from traveling," adds Ms. Didion, an industry expert who has been a twenty year member of the National Association of Resale & Thrift Stores (NARTs) and president of the Association for Resale Innovation (ARI).
snobswap.com/wholesale
SnobSwap is an online marketplace that connects brick-and-mortar designer consignment and resale businesses with online shoppers through its e-commerce platform. SnobSwap's mission is to help resale businesses reach their online sales potential as e-commerce continues to grow.
Contact
Snobswap
Alida Sanchez
888.747.0969
https://snobswap.com

Contact