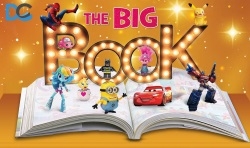 San Jose, CA, December 01, 2017 --(
PR.com
)-- DCatalog, the leading provider of digital publishing solutions, announced today the release of the digital catalog for the holiday season with Toys "R" Us. Toys "R" Us sought an innovative way of showcasing their products within their catalog. DCatalog's premier technology provided a diverse solution, rich in customizations and features to further engage customers and increase ROI.
Revealed today, as Toys "R" Us launched its digital catalog to consumers, this project brings together DCatalog's eCommerce technology with the world's leading toy retailer enabling them to offer a tailored user experience to their consumers.
DCatalog developed a dynamic landing page that adjusts the catalog based on an individual shopper's information and toy preferences. The holiday wish-list enhancement allows consumers to add items to a personalized wish-list, then email to a parent, friend or guardian to fulfill their holiday wishes.
For a seamless shopping experience, DCatalog implemented a product icon tag next to each item, so the consumer can add items to their personal holiday wish-list or directly to the cart. Among the compelling features of DCatalog's platform for Toys "R" Us are gaming URLs that match the internal catalog's games for gamification interaction within the online format.
DCatalog created a captivating shopping experience using Toys "R" Us' existing eCommerce platform technology to keep the consumers' concentration where it needs be, inside the catalog! Users can even fill their carts and check out directly from the catalog-increasing online sales and revenue.
"Our vision at DCatalog is simple: to provide breath-taking digital experiences that help reach contents' full marketing and sales potential," said Costa Bakouros, DCatalog's Director of Sales. "With DCatalog, there is finally a way for companies to ditch printing catalogs and move to a modern, self-serve, purpose-built digital publishing SaaS solution. We built DCatalog for organizations that want to stray away from the outdated print model and to move to the new digital era of measuring and gaining sales from their online collateral. Publishing with DCatalog is as easy as uploading your content and dispersing it for world to see!"
About DCatalog, Inc.
DCatalog empowers publishers, content creators, marketing and eCommerce professionals to easily create and publish engaging digital experiences. Their stunning HTML5 viewer allows content to be streamlined on any device, anytime, anywhere! DCatalog offers a wide variety of interactive features that differentiates itself in the digital publishing industry. With DCatalog, creating a digital experience from a PDF has never been easier. Simply upload a PDF, design and share to increase brand awareness, online sales and reach. The platform offers amazing insights into how consumers are utilizing the content and tracks important data for marketing and analytics purposes. For more information, visit
www.dcatalog.com
.
About Toys "R" Us, Inc.
Toys"R" Us is the world's leading dedicated toy and baby products retailer, offering a differentiated shopping experience through its family of brands. With its strong portfolio of e-commerce sites including Toysrus.com and Babiesrus.com, the company provides shoppers with a broad online selection of distinctive toy and baby products. Toys"R" Us is headquartered in Wayne, NJ, and has nearly 65,000 employees worldwide. For more information, visit Toysrusinc.com.