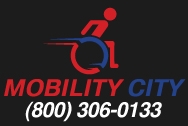 Fort Lauderdale, FL, December 02, 2017 --(
PR.com
)-- If you have long been dreaming of having your own business that will not only help you grow financially but serve disabled people in your community as well, the opportunity is now available as Mobility City recently opened its doors for franchisees to share the same success the company has been experiencing for years.
Mobility City is a pioneer business on mobile repair and cleaning services for various mobility equipment such as wheelchairs, power chairs, scooters, and many others. In effect, the business assists individuals with restricted mobility due to age, accidents, illness, and other conditions.
People who use wheelchairs, scooters, and other mobility equipment to go to places or simply carry out their regular chores spend most, if not all, of their waking moments using them. This is the reason why they are often in need of maintenance, repair, and general cleaning.
While most of them may resort to doing the task themselves when they encounter technical problems, they will soon realize that it is a job that requires professional expertise. As a Mobility City franchise owner, this is where you will come in. You will have the chance to be of service to the disabled individuals in your area by ensuring that the mobility equipment they rely on more than anything will be in excellent condition all the time.
Apart from the service-side of the business that can help develop your internal motivation to carry out the work, being a Mobility City franchisee will also give you the chance to earn more and to achieve financial independence considering the many opportunities in this industry.
Keep in mind that every person, facility, or organization that uses any of the many kinds of mobility equipment is a potential client. Moreover, since there is hardly any competition in this market and you will be provided with Mobility City's successful business model, state-of-the-art technology, a "mission-focused" training program, and "five star" assistance.
Note that apart from the millions of individuals who are relying on wheelchairs alone in this $6.8 billion wheelchair industry, your potential customer base can also include other venues that maintain mobility devices for various purposes such as stadiums, sports arenas, schools, airports, and shopping centers, among others.
Live your dream of working for yourself as you work toward financial freedom while serving others, how perfect can it get, right? Also, Mobility City is extending a special benefit to qualified U.S. veterans. If you want to know more about the process, advantages, and details about being a Mobility City franchise owner, get in touch with them at 1-800-306-0133.