Team Sahlen, Presented by honeybeeBase.com, Secures Overall Victory in 3 Different Series for the 2nd Straight Year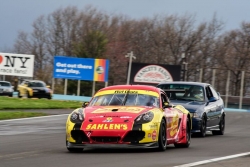 North Canton, OH, December 04, 2017 --(
PR.com
)-- During the 2017 season, Team Sahlen, presented by honeybeeBase.com, competed in 3 different endurance sports car series: American Endurance Racing, World Racing League and ChampCar Endurance Series. Each series offered a unique set of car specs and competition rules that the team had to adjust for.
At the end of the year, the team was successful in securing Overall Victories in each of the 3 series. These results were achieved when not always classified in the Top Class of the series. This achievement was even more noteworthy by the factor of reaching this mark for the second straight year.
Wayne Nonnamaker shared his thoughts, "Each of these 3 series are very strong. Being competitive in all three is very tough. We ask a lot of our crew to accomplish this targeted goal each year. Being able to win in all three, two years in a row is remarkable, and we are proud to have accomplished this goal!"
Over this 2 year span, Team Sahlen has used a variety of race cars to accomplish this mark. Team Sahlen campaigns 4 Porsche Caymans and 3 Mazda RX7s. In total, 5 of the 7 race cars have contributed to the 10 overall race victory tally.
"To win at these long endurance events requires both speed and reliability. Having five different race cars come through to secure Overall Victories is mark I find the most satisfying. The crew does such a fantastic job preparing our Team Sahlen race cars so they can run the full distance. And then to be able to extract the speed from not just one but five race cars is not always easy, but is most certainly a gratifying achievement," shared car chief Tony Artino.
Beyond the Overall race victories, Team Sahlen has been able to achieve being 1st in Class a total of 18 times as well as 47 class podiums in the 2 year time period. Joe Nonnamaker shared his thoughts on this mark – "There are many races where we have been competing in 2 different classes in the same race. Everyone on the team has to keep on their toes as we often have multiple race strategies playing out to try and win in 2 different classes with 2 different speeds of race cars. This means gauging different fuel strategies, pit stop sequences and yellow flag conditions all at the same time for over 7 to 9 hours."
Of the 12 Overall Victories, none of them were carbon copy results. Many of the wins had very interesting dialogues to complement the storyline. Joe Sahlen shared his thoughts - "There are so many of the Overall victories that stand out. Winning overall in the World Racing League with our Mazda RX7s built to the more restrictive ChampCar Endurance Series rules was satisfying. Winning with our Porsche Cayman versus an ELAN Prototype was a true underdog storyline. But achieving the 1st Worldwide Overall Endurance Victory with a Porsche PDK Automatic Transmission is one I will remember for years to come."
Team Sahlen's history in Endurance Sports Car Racing in North America dates back beyond the past two years. In fact, the team's history spans all the way back to origins of production based endurance sports car racing to 1984. Team Sahlen has been able to race in and secure victories in long wide array of past championships that includes: SCCA Escort Endurance Series, Firestone Firehawk Series, IMSA Sports Car Endurance Championship, Motorola Cup, Grand American Continental Tires Series, and Grand American ROLEX Sports Car Series.
"We have been very fortunate to race in a wide variety of series. And even more fortunate to have secured victories in each of those series. What has been constant throughout our team's history in sports car racing is that we have always enjoyed the long endurance race format. And the three series we currently compete in, American Endurance Racing, World Racing League and ChampCar Endurance Series, embrace this philosophy at their core. Our team can hardly wait for the 2018 season to start up again. We will be working hard in the off season to hopefully equal or surpass our achievements from these past two seasons. But no matter what, you can guarantee that everyone at Team Sahlen will be having the time of our lives racing these long enduros," shared Will Nonnamaker.
Contact
honeybeeBase
Tim Weyer
234-262-0005
www.honeybeebase.com

Contact