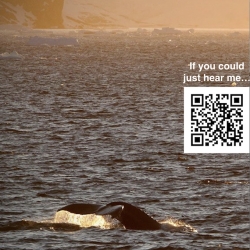 New York, NY, December 07, 2017 --(
PR.com
)-- In response to Greenpeace's Save the Arctic campaign, and specifically its effort to defend the Arctic wildlife, artist Eva718 has created the QRt Arctic Cry (Soleá) - a photograph augmented with an audio track that is activated via a QR code - to help support the Save the Arctic campaign.
Sang by "cantaor" Antonio Puerto, and using a photograph by Juan Kratzmaier, Arctic Cry is a modern version of a "soleá," as it is based in one of the most basic palos of Flamenco music, from the southern region of Spain. Eva718 uses the soleá structure to give voice to the Arctic, as she "hears it":
If you could hear me
If you could feel my cry
You would not let me die
"The Arctic Ocean is home to incredible wildlife, from majestic polar bears to blubbery walruses, mysterious narwhals and graceful seabirds. But the sea ice they depend on is vanishing at a terrifying speed. Without the ice to hunt, rest, and breed, the very survival of polar bears and other wildlife is under threat," excerpt from Greenpeace's Save the Arctic web page.
Eva 718 created Arctic Cry (Soleá) as a way participate in this global effort and join others in campaigning for the need to protect our world, our home.