Cubelets TWELVE Wins Teachers' Choice Award for the Classroom
Modular Robotics is proud to announce that their educational toy product, the Cubelets TWELVE is a winner of the 2018 Learning Magazine's Teachers' Choice Award for the Classroom.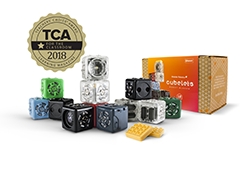 Boulder, CO, December 06, 2017 --(
PR.com
)-- Modular Robotics, the manufacturer of Cubelets robot blocks, is a growing part of schools around the globe, and educators are taking notice. Modular Robotics announced this week that the Cubelets TWELVE kit has been awarded the 2018 Learning® Magazine Teachers' Choice Award® for the Classroom. The award honors products of "exceptional quality and outstanding performance in the classroom."
"Teachers love how Cubelets completely captivate their students," says Jen Titus, Education Account Director. "It is one of the few robotics kits available that appeals to such a broad range of learners. And with the Cubelets TWELVE, students can instantly start building robots all while learning important teamwork, coding and problem-solving skills."
One of the major benefits teachers have found with the Cubelets TWELVE is an easy way to introduce coding to younger students. With the included Bluetooth Cubelet and free access to Cubelets Blockly, a visual drag-and-drop programming language, even gradeschoolers can write their own programs for the deceptively simple robot blocks. Still, while it is a vital 21st-century skill, computer science is about more than just learning to code.
"Learning to code is like learning to spell, it help you start writing, but to craft the next great American novel, you'll have to study literature," says Stu Barwick, Cubelets Product Manager for Modular Robotics. "Cubelets were developed to help more students also learn about the other important techniques of Computer Science, like logical processing, design thinking, and problem-solving. So we are thrilled that Cubelets TWELVE was selected as a recipient of a 2018 Learning Magazine Teachers' Choice Award for the Classroom."
More details regarding the award, as well as a list of winners, can be found at www.teacherschoiceawards.com.
About Modular Robotics: Founded in 2012, Modular Robotics is an educational toy company based in Boulder, Colorado that is dedicated to helping children become better thinkers. Cubelets® robot blocks are educational robot tools utilized by educators around the world to teach computational thinking, robotics, coding, design and problem solving. Learn more about Cubelets robot blocks at www.modrobotics.com.
Contact
Modular Robotics
Carolyn Wilke
512-568-7270
modrobotics.com

Contact