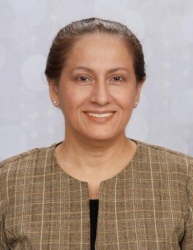 Houston, TX, December 12, 2017 --(
PR.com
)-- Dr. Marium Murad of Houston, Texas has been showcased as a Featured Member for 2017 by Strathmore's Who's Who Worldwide Edition for her outstanding contributions and achievements for over 25 years in the fields of wellness and alternative healing practices.
About Dr. Marium Murad
Dr. Marium Murad is the Founder/Owner of the Movement is Blessed Program, based on the timeless principles of science, which promotes natural body movements for health/wellness for everyone to benefit. It is especially beneficial to individuals who are unable to exercise at the gym, swim, walk or jog, or are ill. She created the MB-"Movement is Blessed" Program, an all-natural therapy using the body's own natural motion for health and harmony. Her program is world-renowned for natural healing in acute and chronic conditions and is designed simply in everyday terminology for the layman. The program is currently available in English, Braille, Spanish, Vietnamese, and is being translated into other languages.
Dr. Murad states, "Everything works better when it's been cleaned; all filters cleaned, no dust, no debris. What is better than to be able to clean all-naturally, with no harsh detergents and no steel wool? Why not vacuum yourself on the inside and clean yourself daily inside and out." Her program does just that. Its foundation is basic human body science which integrates the collective functioning of all the human body's multiple organ systems to ultimately strengthen one's overall health and wellbeing. Dr. Murad aims to improve and revive general health/wellness by enriching daily lives with natural exercise through the use of a series of specific small body movements, applicable for people of all ages, all fitness levels and all health conditions. Her program has shown incredible success and gained recognition both nationally and internationally. She has condensed the whole body down to one exercise, "Toezercise."
Dr. Murad has been presented with numerous awards for her outstanding leadership and commitment to her profession. She was recognized as VIP Woman of the Year by the National Association of Professional Women in 2014. She was named Top Female Executive in 2015, first "Delegate" representative in 2016 and Top Healthcare Leader for 2016-2017 by the International Women's Leadership Association. Dr. Murad has twice been recognized on the Reuters Billboard in Times Square in New York City. She has been honored as a Professional of the Year for 2016-2017 by the International Association of Top Professionals and was featured in their magazine, "Tip Top Industry Professionals. She was selected as the "Empowered Entrepreneurial Woman" for a 2 series radio show by CUTV, News Radio New York with a follow-up for an upcoming 12 weekly radio series by celebrity hosts Doug Llewellyn and Jim Masters. She will be hosting her radio show with Brave Bold Media, an interactive 6 month weekly radio series for the aging population.
Dr. Murad has written many articles, and was featured on the cover of several magazines including IWLA and NAPW. She has also appeared on television shows and radio shows, all with positive reviews, and has traveled globally to attend conferences and seminars to speak about her program. She was an exhibitor at the Autistic and Other Developmental Disabilities annual convention in 2017, and Home Schooling by Mothers annual convention 2017 in Houston. Marium's schedule for September 2017 included Senior Fall Prevention Day on September 22nd, exhibitor at the Female Veteran's Natural Wellness Summit sponsored by Catholic Charities on September 23rd and National Women's Health & Fitness Day at the Fort Bend Chamber of Commerce on September 28th. On October 21, 2017, Dr. Murad participated in a Walk for the Hearing Loss Association of American's Houston Chapter. She taught her ONE exercise to the supporting, non-walking seniors and had the only exhibit booth at the event which was held at the University of Houston main campus. On October 24, 2017, she was an exhibitor at an Elderly Senior Showcase Symposium. On November 18, 2017 she was a speaker for the Senior Golden Club at the Pioneer Sports Center in Rosenberg, Texas. November 20, 2017, Dr. Murad was a speaker for the Creole Club House in Houston, Texas. She was a speaker at three different Public Libraries in Houston on November 26, 30 and December 1, 2017. She has been attending a number of ongoing private and public school events to introduce her Foot Wellness Program. There is much interest in this upcoming project.
Marium graduated with an M.D. from Fatima Jinnah Medical College in Lahore, Pakistan. In her spare time she enjoys reading, food, friends and travel.
Dr. Murad's MB Program states, "Life is Movement, Movement is Life" and "Movement Blessed."
For further information, contact
www.movementisblessed.com
. Dr. Murad is working on a new website with an appointment calendar and a short course to learn Toezercise.
About Strathmore's Who's Who Worldwide
Strathmore's Who's Who Worldwide is an international advertising, networking and publishing company based in Farmingdale, New York. They are proud to be able to satisfy their clients and continue to have repeat clientele due to their longevity and pride in their products and services. The Owners strive to connect business professionals to enhance their contact base and networking capabilities so they can get the acknowledgment and publicity within their industries and beyond. The Strathmore family has been providing these valuable services for over two decades. They target executives and professionals in all industries to be featured in their publication and on-line directory. Industries include business, law, education, healthcare and medicine, fine arts, IT, government, science, real estate, entertainment and many more accomplished fields. Professional profiles are listed in an annual hardcover journal and in a detailed, searchable database on the website www.strww.com.