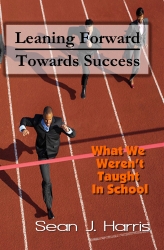 Snellville, GA, February 26, 2008 --(
PR.com
)-- Author Publishes First Book Written on Success Principles.
Author Sean J. Harris has astounded the literary world by writing his first book, Leaning Forward Towards Success on success principles and the secrets of the successful, that were not taught in school. Thousand-Fold Publishing published his book.
Mr. Harris shares wisdom that will instruct those wanting to benefit and take full advantage of the Free Enterprise System that many take for granted in this country. Readers are growing mentally from the determination and discipline taught in Leaning Forward Towards Success that afforded Mr. Harris an opportunity to start a business in the real estate industry prior to starting a successful Business Development Firm.
Mr. Harris comments: "You have no economic power when someone else controls your time and income." Mr. Harris is a great example of the type of author that we encounter at Thousand-Fold Publishing – he has not only been creative with what he has written but also with how he has written it.
Leaning Forward Towards Success is available for $14.95 online at:
http://stores.lulu.com/thousandfoldpublishing or calling 877-879-5694
Sean Harris lives in the Atlanta, Georgia area with his wife Janel. Sean speaks at conferences and seminars around the country as an advocate and teacher of success through home based business concepts.
###