Board Bootie to be Sold at Pennsylvania's Leading Retail Ski and Snowboard Shops – Buckman's
Buckman's Ski and Snowboard Shops, the leading retailer of ski and snowboard equipment and accessories in Pennsylvania, makes Board Bootie available at its stores and on its website.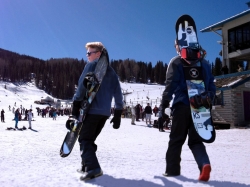 Valley Forge, PA, December 13, 2017 --(
PR.com
)-- Board Bootie LLC, the creator of a lightweight snowboard protector and snowboard backpack, has reached an agreement with Buckman's Ski and Snowboard Shops to make Board Bootie available in their stores and on their website. It seems only fitting that the first ski shops in the nation to begin carrying snowboarding gear and apparel are the first to carry Board Bootie.
"We have prided ourselves at Buckman's on being ahead of the curve in introducing innovative ski and snowboard equipment," says Alan Stewart who is a long-time Buyer/Manager at Buckman's. "It's astounding that it took so long for a product like Board Bootie to come to market. We are delighted to be the first retailer in the United States to offer this sorely needed product to make protecting and transporting a snowboard supremely convenient."
This collapsible snowboard backpack and protective snowboard cover is a first in the industry. For over a year, Board Bootie, LLC has been working with a manufacturer to perfect the product to make it unique yet completely functional. As such, it only includes what is absolutely necessary to provide protection for a snowboard and a car while in transit, and to be able to transport a board hands-free, all while weighing approximately 11 ounces. It will also:
· Help keep edges sharp and wax job fresh
· Collect water from draining into a car or home
· Protect hands and gloves from cuts
· Collapse compactly enough to put in a jacket pocket
· Fit snuggly on a board
· Apply and remove in seconds
About Board Bootie, LLC: Board Bootie, LLC is a board sports equipment accessory company which designs, produces and sells lightweight covers for protecting and transporting snowboards and wakeboards. The company was founded in 2016 and is headquartered in Valley Forge, PA. The product has been approved for a utility patent. For more information, and to see Board Bootie in action, visit their website at https://www.boardbootie.net. Board Bootie...some things just shouldn't be naked.
About Buckman's Ski and Snowboard Shops: Buckman's has been providing quality products and exceptional customer service since 1971. They deliver a mom and pop feel combined with the cutting edge, expert knowledge and award-winning service that comes from over 45 years of experience. Today they operate seven retail stores across suburban Philadelphia, carrying the largest inventory of ski/snowboard merchandise and rental equipment in Pennsylvania. Their state-of-the-art workshop is the finest on the east coast, covering 3200 sq. ft. with over $450,000 worth of tuning equipment. To see their product offerings, visit https://www.buckmans.com. Or, visit one of their PA stores in King of Prussia, Doylestown, Ardmore, Montgomeryville, Reading, Whitehall or Exton.
Contact
Board Bootie, LLC
David Thornbury
+1-610-331-7713
https://www.boardbootie.net

Contact