Law Office of Alena Shautsova Wins Asylum Claim for LGBT Ukrainian National
Immigration attorney Alena Shautsova helped an LGBT Ukrainian national to receive asylum in the United States.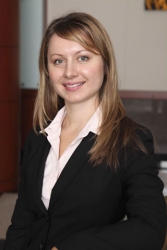 Brooklyn, NY, December 15, 2017 --(
PR.com
)-- A Ukrainian national who belongs to the LGBT community was recently granted
asylum
by the U.S. government after a successful argument that despite democratic developments in Ukraine, the country and its government are still hostile towards the LGBT community.
Ms. Shautsova comments that "Like in many former Soviet Union countries, the anti-gay beliefs are strongly harbored in Ukrainian society. Despite the progress the country achieved within the last couple of years, physical and verbal violence against the gay and lesbian population is widespread and unpunished. Unfortunately, the 'Euromaidan revolution' has not changed much for the LGBT Ukrainians.
"The case at issue involved a client who was forced to leave their chosen occupation in Ukraine, hide true beliefs and preferences and was even physically assaulted all because of their LGBT affiliation. The value of asylum in the United States and its importance cannot be overstated. An asylee can file for
adjustment of status
and receive a permanent residency in the United States after holding asylum status for a year.
"This client's life was saved, and soon, there will be a 'Dr.' in front of the client's name. A client, a highly trained professional, who is on the way to becoming a doctor. Had the client stayed in Ukraine, there would have been, probably, a 'late' add-on in front of that name instead."
Ms. Shautsova is a
New York Immigration attorney
and can be reached at (917) 885-2261 or email office@shautsova.com.
Contact
Law Office of Alena Shautsova
Alena Shautsova
(917) 885-2261
http://www.shautsova.com
http://www.russianspeakinglawyerny.com

Contact