OrthoNeuro Surgeon Performs the First Robotics-Assisted Bi-Cruciate Retaining Total Knee Replacement with the NAVIO™ Surgical System in Ohio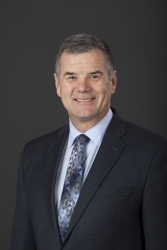 Columbus, OH, December 19, 2017 --(
PR.com
)-- Dr. Mark Gittins, OrthoNeuro Orthopedic Surgeon completed the first robotics-assisted bi-cruciate retaining total knee replacement procedure in Ohio. This surgical milestone occurred on November 28, 2017 at the New Albany Surgery Center and represents one of the first CT-free robotics-assisted bi-cruciate total knee arthroplasty procedures using the NAVIO Surgical System in the world.
The NAVIO robotics-assisted surgical system aids in implanting the JOURNEY™ II XR (bi-cruciate retaining total knee system) which is one of the only total knee designs allowing retention of the ACL, and is designed to improve patient satisfaction. (1)
"Having used robotics-assisted technology for partial knee arthroplasty before, it was easy to understand how the same benefits could translate to total knee arthroplasty," said Dr. Gittins. "I'm excited for the future of this technology and what it means for my patients."
According to Dr. Mark Gittins, unlike other total knee implants that remove the anterior and posterior cruciate ligaments (ACL/PCL), the JOURNEY II XR knee implant uses a U-shaped tibial base plate that allows these ligaments to remain in place after surgery. The JOURNEY II XR implant also features an anatomic design that helps to reproduce the original internal shapes and forces of a natural knee as it goes through its full range of motion.
The NAVIO is a next generation handheld robotics platform designed to aid surgeons with implant alignment, ligament balancing and bone preparation – key factors that can drive implant survivorship. (2,3) The small footprint of NAVIO allows for set up and portability. Furthermore, the NAVIO robotics-assisted system does not require a preoperative image, such as a CT scan. This allows patients to receive the benefits of robotics-assistance without the extra steps, costs, and radiation associated with additional preoperative imaging. (4)
References
(1) Moro-Oka, Taka-Aki, Marc Muenchinger, Jean Pierre Canciani, and Scott A. Banks."Comparing in Vivo Kinematics of Anterior Cruciate-retaining and Posterior Cruciate-retaining Total Knee Arthroplasty." Knee Surgery, Sports Traumatology, Arthroscopy 15.1 (200&): 93:99. Web.
(2) Sharkey, P., et al. "Why Are Total Knee Arthroplasties Failing Today?" Clinical Orthopaedics and Related Research. 2002 Nov;404:7-13.
(3) Siddique, N., Ahmad, Z. "Revision of Unicondylar to Total Knee Arthroplasty: A Systematic Review" The Open Orthopaedics Journal 2012;6; (Suppl 2: M2) 268-275
(4) Sg2 Healthcare Intelligence. Technology Guide: Orthopedic Surgical Robotics. 2014.25. Readmissions Reduction Program (HRRP). CMS.gov. Page last Modified: 04/18/2016 5:08 PM.
OrthoNeuro
OrthoNeuro is a multidisciplinary center of board-certified physicians specializing in orthopedic surgery, neurology, neurosurgery, and physical medicine and rehabilitation. With offices in Westerville, New Albany, Grandview, Pickerington, and Dublin, OrthoNeuro is committed to providing patients throughout Greater Central Ohio with convenient access to an exceptional patient care. For more information about OrthoNeuro visit
www.orthoneuro.com
or call 614-890-6555.
New Albany Surgery Center
New Albany Surgery Center is a single specialty ambulatory surgery center that has been open for 5 years specializing in orthopedic procedures. For more information about New Albany Surgery Center visit www.newalbanysurgerycenter.com or call 614-775-1616.
About Smith & Nephew
Smith & Nephew is a global medical technology business dedicated to helping healthcare professionals improve people's lives. With leadership positions in Orthopaedic Reconstruction, Advanced Wound Management, Sports Medicine and Trauma & Extremities, Smith & Nephew has around 15,000 employees and a presence in more than 100 countries. Annual sales in 2016 were almost $4.7 billion. Smith & Nephew is a member of the FTSE100 (LSE:SN, NYSE: SNN).
For more information about Smith & Nephew, please visit their website www.smith-nephew.com, follow @SmithNephewplc on Twitter or visit SmithNephewplc on Facebook.com.
Individual results may vary.
Not all patients are candidates for the JOURNEY II XR Knee Implant or the NAVIO Surgical System. Discuss your condition and implant options with your surgeon. Individual results of joint replacement vary. Implants are intended to relieve knee pain and improve function, but may not produce the same feel or function as your original knee. There are potential risks with knee replacement surgery such as loosening, wear and infection that may result in the need for additional surgery. Patients should not perform high impact activities such as running and jumping unless their surgeon tells them that the bone has healed and these activities are acceptable. Early device failure, breakage or loosening may occur if a surgeon's limitations on activity level are not followed. Children, pregnant women, patients who have mental or neuromuscular disorders that do not allow control of the knee joint, and morbidly obese patients should not undergo a NAVIO procedure. This information is for educational purposes only and is not intended as medical advice. Consult your physician for details to determine if one of these technologies is right for you.
Forward-looking Statements
This document may contain forward-looking statements that may or may not prove accurate. For example, statements regarding expected revenue growth and trading margins, market trends and our product pipeline are forward-looking statements. Phrases such as "aim," "plan," "intend," "anticipate," "well-placed," "believe," "estimate," "expect," "target," "consider" and similar expressions are generally intended to identify forward-looking statements. Forward-looking statements involve known and unknown risks, uncertainties and other important factors that could cause actual results to differ materially from what is expressed or implied by the statements. For Smith & Nephew, these factors include: economic and financial conditions in the markets we serve, especially those affecting health care providers, payers and customers; price levels for established and innovative medical devices; developments in medical technology; regulatory approvals, reimbursement decisions or other government actions; product defects or recalls or other problems with quality management systems or failure to comply with related regulations; litigation relating to patent or other claims; legal compliance risks and related investigative, remedial or enforcement actions; disruption to our supply chain or operations or those of our suppliers; competition for qualified personnel; strategic actions, including acquisitions and dispositions, our success in performing due diligence, valuing and integrating acquired businesses; disruption that may result from transactions or other changes we make in our business plans or organization to adapt to market developments; and numerous other matters that affect us or our markets, including those of a political, economic, business, competitive or reputational nature. Please refer to the documents that Smith & Nephew has filed with the U.S. Securities and Exchange Commission under the U.S. Securities Exchange Act of 1934, as amended, including Smith & Nephew's most recent annual report on Form 20-F, for a discussion of certain of these factors. Any forward-looking statement is based on information available to Smith & Nephew as of the date of the statement. All written or oral forward-looking statements attributable to Smith & Nephew are qualified by this caution. Smith & Nephew does not undertake any obligation to update or revise any forward-looking statement to reflect any change in circumstances or in Smith & Nephew's expectations.
Trademark of Smith & Nephew. Certain marks registered US Patent and Trademark Office.
Contact
OrthoNeuro
Heather Benjamin
614-839-2142
www.orthoneuro.com
Director of Marketing and Communications

Contact