The VIR Group is Revolutionizing Vacation Home Security with Its Ultimate Protection Solution
Florida-based vacation rental company is taking pride in offering the most secure & peaceful Christmas for your family this year.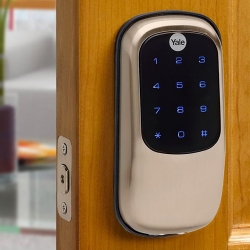 The Villages, FL, December 24, 2017 --(
PR.com
)-- There are so many people traveling for Christmas this year and they can't just trust that their vacation home is secure. However, The VIR Group is changing all that by making sure that the home and family of its valued clients are protected. Safety of a vacation home is even more important then the safety of your regular family home and the company is making sure that its clients get the most peaceful Christmas this year. The Florida-based vacation rental company is doing this by using a state of the art fool proof system to ensure the security of all its guests, owners and their families.
"We have found through research that the majority of electronic locks on vacation rentals have the same pin code for every guest and are even less secure than a physical key. It's a hassle to change the code and codes are usually easy for guests and owners to remember. 90% of these electronic locks use generic codes, the last four digits of the owner or property manager's telephone number, or the house number backwards," said Alistair Barrett-Powell, the Chief Executive of The VIR Group while explaining the problem. "The only truly secure solution for keeping your family and your belongings safe is a subscription-based lock, smart-home access, and live proactive monitoring service similar to the mandated solution we have at VIR," he added.
According to the Chief Executive, the lock installed on-site in the homes is directly linked to an in home cellular hub, which instantly notifies them if someone is tampering with the lock, trying to break in through the door or window, and even every time the locks are opened/closed. In addition, even if the internet goes down or someone cuts the internet cord, this lock still has active monitoring just like a home alarm system. Furthermore, this remarkable system works using a randomly generated and unique 6-digit code for each guest that is only valid for the duration of the guest's stay. These 6-digit codes are sent to the homes, activating automatically when the guest is due to arrive and deactivating automatically as soon as the guest checks out. For extra security, outdoor lighting turns on at sunset and off at sunrise. This allows all of the guests who stay at VIR's vacation rental properties to have peace of mind knowing that the vacation home will be brightly lit upon their arrival and their code is only known by them and The VIR Group's senior management.
"Through running a vacation rental management company, I have a unique understanding of what goes into making sure a vacation rental home is totally safe and secure for guests and we take all the security measures necessary to ensure that their guests feel 100% safe," said Alistair Barrett-Powell. "There is no way that either my family or myself would feel safe staying in a vacation rental with merely a physical key or an electronic lock that is not actively monitored with a unique code for each, individual stay," he added. "My advice to anyone staying in an Airbnb or a vacation rental this holiday season, is to request that the electronic lock code is changed to something that is personalized to you, the guest just after your arrival or a physical lock is re-keyed for your stay."
About The VIR Group and Alistair Barrett-Powell
Alistair Barrett-Powell left Sotheby's International Realty in 2012 to co-found The VIR Group, bringing together his combination of talents as a highly successful former CEO, investment firm marketing director and real-estate broker. He is one of the 2012 United States Power 30 under 30 and was awarded London's Young Guns Young Entrepreneur of the Year in 2008. Other beneficiaries of this prestigious award over the years, that have become household names in their fields, include Ed Boyes and Patrick Drake of Hello Fresh; Graham Bosher of Graze; and Greg Marsh and Tim Davey of onefinestay.
Through the skills and experience he acquired from his previous roles, Alistair Powell put together a highly-qualified team to establish his world-class business. The VIR Group is a vacation rental management and hospitality company providing clients with unparalleled service from start to finish.
A provider of boutique short-stay and vacation accommodation, The VIR Group is known for their exceptional client experience. Now representing the very best vacation homes in The Villages, Florida, The VIR Group and VIR Vacation Rentals will soon expand throughout Florida and across the United States.
Contact
The VIR Group
Alistair Barrett-Powell
+1 (352) 559-5000
www.thevirgroup.com

Contact