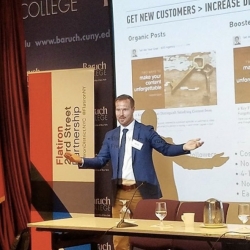 New York, NY, January 02, 2018 --(
PR.com
)-- Tell Me Your Goal, LLC, a
NYC SEO Company
, full-service Search Engine Optimization (SEO) agency that provides everything from website design to SEO, this week officially earned the title as New York City's #1 SEO firm on Yelp.com.
Tell Me Your Goal serviced more than 200 clients across the U.S., leveraging a variety of SEO techniques.
"Given the nature of today's digital landscape, effective SEO and related digital marketing avenues are absolutely critical for business success," said Steven Matt, Founder and CEO of Tell Me Your Goal, LLC. "Without SEO, businesses are as good as gone, unsearchable through Google and other major search engines. We take pride in providing high quality, custom-tailored SEO services to our clients, starting with independent evaluations."
Tell Me Your Goal provides courses and workshops, IT cloud technology support, social media management, app development, website design and development, digital marketing consultations, trademark protection, public relations support, and SEO, offering an onsite, as well as offsite, SEO package option.
Matt has been working within the field of SEO since 2003, transforming corporate strategies and sharing his knowledge with individuals from every industry. As a certified instructor at General Assembly and NYC Business Solutions, Matt continues to help businesses make sense of the massive world of SEO.
"We are honored to have received this distinction through Yelp.com as a result of our dedicated work with our clients, and look forward to an even more productive year in 2018," said Matt.
Tell Me Your Goal provides clients with a first non-ad position on Google, receiving 33% of all clicks. As of today, only 8% of searches end up on the second page of Google.
For more information, visit: www.tellmeyourgoal.com.