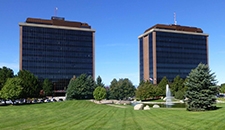 Knoxville, TN, January 03, 2018 --(
PR.com
)-- Vericom Global Solutions, a global manufacturer of data, voice, video and security solutions, that provides an unparalleled combination of value and performance for customers, has announced an expansion to their United States operations with the opening of a new office location in Denver, Colorado.
Vericom Global Solutions was the title sponsor for the Society of Cable Television Engineers Cable Tec Expo 2017 Event in Denver in 2017 and this expansion into the Denver market will continue to expand the reach of the company. The Vericom Global Solutions Corporate Headquarters is located in Knoxville, Tennessee, along with additional corporate locations in San Diego, California and the new Denver, Colorado location. Vericom also offers warehouse shipping locations in Knoxville, Tennessee and Reno, Nevada, allowing the company's growing product lines to be easily shipped to locations throughout the United States, Canada, Latin America and South America.
"The addition of our corporate location in Denver allows Vericom to continue our phenomenal growth throughout the Americas," said Ken Rodgers, President of Vericom Global Solutions. "Our industry leading products for the electrical, telecommunications, safety, satellite and security markets continue to drive our phenomenal growth and having a corporate location in Denver will accelerate our market presence in 2018 and beyond."
The Colorado location for Vericom is located in the Denver suburb of Aurora, Colorado at 2821 S. Parker Boulevard, #1265, Aurora, Colorado, 80014.
Vericom Global Solutions offers an outstanding range of high-quality data, telecom, audio/video, safety, satellite and security products that are designed to deliver superior quality at outstanding pricing for companies, regardless of size. For more information on the product lines offered by Vericom Global Solutions, visit vericomsolutions.com.