CommercialTribe Named Top Sales Technology Solution Provider
CIO Applications Magazine Recognizes Innovations in Sales Technology.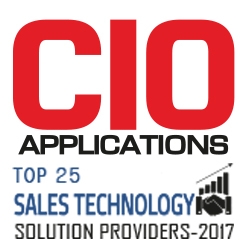 Denver, CO, January 10, 2018 --(
PR.com
)-- CommercialTribe, a leading sales management software provider, was recognized by CIO Applications Magazine in their annual Top 25 Sales Technology Solution Providers for 2017. With innovative platform and services solutions that help sales organizations develop frontline sales management coaching skills, CommercialTribe is uniquely positioned in the
sales technology
industry to measurably improve sales management performance.
CommercialTribe has developed a comprehensive sales team development solution with a unique combination of technology and expertise focused on helping front line managers train and develop their teams to hit their quotas. "It's easy to spot team members who aren't performing," explains CommercialTribe Founder and CEO, Paul Ironside. "But every sales manager will tell you the difficult part is figuring out exactly what is wrong, and how to help them improve. We have developed a system to do just that, for every important phase in the sales cycle." Customers using the system have seen marked increases in rep productivity.
"By providing them with clear insight and direction, busy sales managers can now see where and how to coach the key behaviors that move our pipeline forward," says Channing Ferrer, Vice President of Sales Operations and Strategy at HubSpot, Inc. and enthusiastic user of CommercialTribe for the continued development of his sales organization.
The award from CIO Applications Magazine was given to the top 25 sales technology solution providers in the country.
CommercialTribe has introduced a litany of new platform features and service solutions in the past year to align the needs of sales leadership and sales enablement functions in a way that significantly improves the effectiveness of sales training application and revenue attainment performance.
About CommercialTribe:
CommercialTribe
is the standard SaaS platform for developing sales teams to improve revenue performance. We create an environment to unlock the potential of every rep and manager to get better every quota carrying year. We do this by intelligently observing and assessing reps in multiple selling scenarios, and then providing managers with clear coaching paths to improve coaching skills and close rep skills gaps.
Contact
CommercialTribe
Katie Fritchen
720-639-3040
https://www.commercialtribe.com

Contact