DAT Instruments Introduces DAT Widelog Data Logger, with New Large 18.5-Inch Monitor, for Drilling and Special Foundations
DAT WideLog Eliminates Need for Multiple Data Loggers with Single Data Logger Capable of Executing and Monitoring Multiple Operations Simultaneously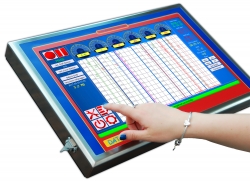 Cairate, Italy, January 12, 2018 --(
PR.com
)-- DAT instruments, an Italy-based company specializing in the design and production of data loggers for geotechnics and special foundations, introduces
DAT WideLog
, a rugged data logger with a large 18.5-inch (41x23 cm) touch screen monitor that displays graphs, numerical values, and needle indicators that allow an operator to execute highly precise operations throughout a project's drilling and grouting phase. The DAT WideLog monitor is a full color, touch screen that is weather resistant and can be used by operators even while wearing gloves. DAT WideLog also features a large, solid state internal memory that is resistant to external impacts and capable of recording multiple data. DAT's new WideLog data logger can transmit data via USB drive or in real time via internet enabled by DAT WideLog's Ethernet access and Wi-Fi antenna. The DAT WideLog data logger is inspired by customer project requirements and specific requests to DAT.
"The DAT WideLog has already generated great interest among companies involved in special foundation activities and that place a high value on precise, quality execution of their projects," said Amedeo Valoroso, founder of DAT instruments. "DAT data loggers have earned a strong reputation for high quality, robust features, wide range of expansion and replacement parts, training at DAT's Italy facilities and worldwide, and technical support directly from the DAT system design team."
The new DAT WideLog features intuitive touch screen commands that help operators to perform multiple tasks with greater efficiency. Further, this rugged unit is capable of transmitting data to virtually any location in real time for team collaboration and remote monitoring. The new DAT WideLog's enhanced multiple capabilities allow for a single data logger in situations that traditionally require more than one datalogger, such as jet grouting, cement injections, grouting, drilling, MWD tests, CFA, deep mixing, soil mixing, vibroflotation, diaphragm walls, hydromills, and Lugeon and Lefranc tests. With new DAT WideLog's sturdy high technology, site managers or operators simply install the set of sensors appropriate for the application.
The DAT WideLog unit body is made of stainless steel and of aluminium, assuring resistance to even the worst weather conditions, including conditions normally catastrophic to traditional data loggers such as extremely high or low temperatures, sand and water.
About DAT instruments
DAT instruments offer a range of products, both standard and custom-made, which assist customers with multi-site operations. Founded in 2001 by Amedeo Valoroso, DAT instruments is a dynamic and fast growing company that serves over twenty countries on five continents.
Contact
DAT instruments
Amedeo Valoroso
+390331071147
http://www.datinstruments.com/

Contact