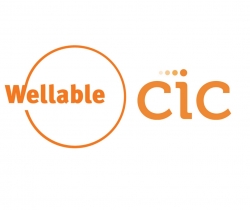 Boston, MA, January 14, 2018 --(
PR.com
)-- Wellable,
www.wellable.co/home
, a leading wellness technology and services provider specializing in wearable devices and mobile app integrations has partnered with
CIC
, an organization that creates innovation communities aimed at enhancing entrepreneurs' likelihood of success and impact on the world. CIC's
Workplace Wellness
program energizes the community through progressive mind-body programing (and offers a break from the daily grind). In partnership with Wellable's team, CIC is pleased to announce its plans to deliver the first Global Fitness Challenge, for CIC members, a free, four-week health and fitness program that kicks off in February to help foster healthy habits in the workplace and beyond. "Wellable's technology and service platform provides us with a compelling and unique opportunity to bring together our CIC communities around the world with an interactive wellness challenge," said Tim Rowe, CEO of CIC. "This is our first ever cross campus, global wellness initiative -- a dynamic way of engaging our teams, businesses and partners in making health and wellness a focus for personal balance and integration within our communities," said Shakti Rowan, Wellness Coordinator at CIC. Wellable makes health and well-being easy for everyone by embracing familiar and leading consumer wellness technologies. Participants in the Global Step Challenge can choose to use either a fitness device they already own and are familiar with or can select from a number of free mobile apps that are compatible with Wellable. Wellable's social platform provides multiple consumer-friendly resources to communicate, allowing members the ability to work together as a team to improve their personal health and reach their goals. "We are thrilled to be working with the CIC Wellness Team to launch the first-ever CIC Global Step Challenge," said Ashley Hopkins, RD, LDN, Director of Wellness Program Success for Wellable. "With a focus on strengthening vibrant communities and building collaborative work environments, CIC and its Wellness Team are fully aligned with Wellable's dedication to positively impacting company culture and employee health to make wellness a fun and accessible reality."
About CIC
CIC's flagship location was founded in Cambridge, Massachusetts in 1999 in Kendall Square, and has since become the most established critical mass of thriving innovative companies in Massachusetts. CIC has developed and operates sites in Cambridge, Boston, MA; St Louis, MO; Miami, FL; and in Rotterdam, the Netherlands and continues its growth both in the US and internationally. Working closely with local organizations and city districts, CIC helps innovators and entrepreneurs to be better connected to each other and to resources around them, and to be more productive than they would be in isolation. Hundreds of CIC-supported events every month draw members from across the global startup community to CIC, and members have access to a vast network of entrepreneurs, service providers, investors, and mentors. Visit CIC online at CIC.com.
About Wellable
Wellable operates next-generation wellness challenges and health content technology platforms and complements these solutions with onsite and virtual services, such as health fair coordination, seminars, and more. The technology's flexibility allows organizations to customize and configure a program to meet their needs and objectives while providing a rich experience for end users. Wellable works with employers and health plans of all sizes across the world, with active users in more than 23 different countries. Visit Wellable online at www.wellable.co or follow them on
Twitter
,
Facebook
, or
Linkedin
.