OnPoint Manufacturing Announces Partnership with Taylar Leigh Apparel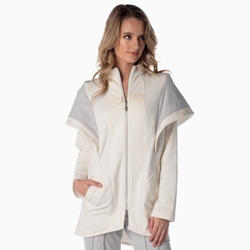 Nashville, TN, January 17, 2018 --(
PR.com
)-- OnPoint Manufacturing, Inc., an innovative leader in on-demand apparel manufacturing, today announced a partnership with Taylar Leigh Apparel to produce their women's clothing line.
Through this cooperative effort Taylar Leigh Apparel is working closely with OnPoint Manufacturing (OPM) to provide high-end fashion on demand. This partnership is the perfect illustration of what the future holds for customized apparel manufacturing.
Taylar Leigh, an Atlanta-based fashion designer and manufacturing engineer, recently opened her new online boutique store, TaylarLeighApparel.com. The web store carries Taylar's unique signature line of "Organically American" custom made-to-order ladies' lifestyle wear using only quality, comfortable, natural fabrics. Customers choose from 15 sizing options across three body type categories. Garments are then made in OPM's cutting-edge, U.S.-based plant.
"We are thrilled to be working with Taylar Leigh Apparel to manufacture their lifestyle wear for women. We are dedicated to building a lasting relationship with Taylar Leigh Apparel by delivering personalized service and a top-quality product," says J. Kirby Best, Chairman, OnPoint Manufacturing.
"Our collection represents Earth-kind, high value apparel for socially and environmentally conscious customers," says Taylar Leigh, Founder. "We want women to proudly wear their lifestyle in our fashion future clothing where revolutionary elegance meets cozy-comfortable."
About OnPoint Manufacturing, Inc.
OnPoint Manufacturing specializes in Purchase Activated On-Demand Mass Customization of apparel. OnPoint has developed technically advanced manufacturing and distribution solutions for the apparel industry. Our factory model automates and integrates almost every aspect of the manufacturing process from order entry to delivery. The integrated components that are driven by complex software allow OnPoint to manufacture millions of unique SKU's on-demand reducing inventory costs and streamlining the whole supply chain. Founded by CEO J. Kirby Best, OnPoint maintains a manufacturing facility in Florence, Alabama, with headquarters in Nashville, Tennessee.
Media requests may be directed to OnPoint Manufacturing, Inc. Director of Marketing Christopher Taylor at 615-900-9022 or via email at Chris@onpointmanufacturing.com.
Contacts
J. Kirby Best, 615.330.2407
Chairman, OnPoint Manufacturing, Inc.
Kirby@onpointmanufacturing.com
Christopher Taylor, 615.900.9022
Director of Marketing, OnPoint Manufacturing, Inc.
Chris@onpointmanufacturing.com
Stephen Wooten, 404.720.5019
Operations & Marketing, Taylar Leigh Apparel
Stephen@taylarleighapparel.com
Contact
OnPoint Manufacturing, Inc.
Christopher Taylor
615-900-9022
www.onpointmanufacturing.com
J. Kirby Best, (615) 330-2407
Chairman

Contact