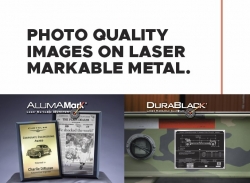 Cleveland, OH, January 23, 2018 --(
PR.com
)-- Horizons Imaging Systems Group (ISG), the makers of AlumaMark®, DuraBlack® and AlumaJet®, is being recognized by the
Awards and Personalization Association
for maintaining an active membership for 25 consecutive years. Horizons joins 33 other member companies celebrating this milestone who will be honored at the Annual Member Breakfast, February 23 at the
International Awards & Personalization Expo
, in Las Vegas.
Horizons joined the Awards and Personalization Association (fmr. Awards and Recognition Association) to support its
Metalphoto
® converters in the plaque and award market. As plaque and award shops began using laser and ink jet printers to digitally create plaques, awards, signs and other items; Horizons developed two laser markable aluminum materials (AlumaMark and DuraBlack) and one ink jet printable aluminum material (AlumaJet). All three products are used by APA members to print photo-quality images on real metal.
AlumaMark is the only CO2 laser markable material that produces photo-quality images on real metal without etching, engraving, or adding chemicals. AlumaMark is imaged by the heat of the CO2 laser. The result is photographic quality images on real aluminum. For more information, visit
www.alumamark.com
.
DuraBlack is a CO2 laser markable aluminum for durable, on-demand marking for harsh operating environments. In side-by-side tests, DuraBlack outperforms black anodized aluminum and laser markable acrylic tape in select applications. DuraBlack is resistant to sunlight (UV-radiation), abrasion, high-temperatures, salt-spray and chemical exposure. For more information, visit
https://dura.black/
.
AlumaJet is ink jet printable aluminum that allows users to print full-color, photographic images directly onto real metal without the hassle of heat presses or transfer paper. AlumaJet's coating accepts inks from standard ink jet printers, replacing the need for specialty inks, transfer papers or heat presses used with sublimation. For more information, visit
https://alumajet.com/
.
About Horizons Imaging Systems Group (ISG):
Horizons Imaging Systems Group (ISG) is an internationally recognized manufacturer of printable aluminum used to produce labels, nameplates, equipment panels and more. Employing a range of processes, the company's products are produced on state-of-the-art manufacturing lines located in Cleveland, Ohio, USA. Horizons produces a variety of label substrates including Metalphoto, AlumaJet, AlumaMark, ID-MARK and DuraBlack. For more information, visit
www.horizonsisg.com
or call 800-482-7758.