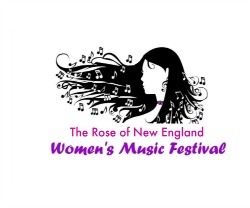 Norwich, CT, January 20, 2018 --(
PR.com
)-- About the Festival:
Song Cycle Management and the Strange Brew Pub are proud to present "The Rose of New England Women's Music Festival" on Saturday, April 21, 2018 at the Strange Brew Pub on 86 Water Street in Norwich, CT from 7:00 p.m. to midnight. The Rose of New England Women's Music Festival will feature six performers for a night of original music in many genres. The festival is free of charge. Parking is also free and plenty. You must be 21+ to attend. The Strange Brew pub has a full service kitchen and serves over 100 different beers.
About the Artists:
The Rose of New England Women's Music festival will open with Ashlee Paradis who was selected as this year's "Rose of New England Up & Coming Artist." Ashlee is a multi-instrumentalist singer-songwriter from Willimantic, CT. She has played countless venues throughout New England. Her debut EP is titled "Thankless Art."
Gracie Day takes the stage at 7:30 p.m. Gracie is 2017's "Best New Act" according to the New England Music Awards, an organization that acknowledges musical artists across all six states. Based in Hartford, and recently named "Best Folk Band" in CTNow's Best of Hartford Reader's Poll for 2017, Gracie Day is gaining a reputation for her authentic performances and heartfelt storytelling which is highlighted by melodic sensibility and dynamic sound.
At 8:15 The BeeKeepers will offer up "glorious, bluesy, folk-pop" (The Huffington Post). Winners of a 2017 Akademia Music Awards the three women play thirteen instruments including guitar, classical guitar, u-bass, Merlin, banjo, accordion, piano, hand-percussion, ukulele and more. The BeeKeepers are known for their rich honeyed vocals and mesmerizing vocal harmonies.
At 9:00 p.m. is alternative artist Olive Tiger. Olive Tiger has been hailed as an evolution of sound and texture. They are a nontraditional quartet hailing from New England that lushly combines electronics with organic elements of chamber-pop, defying the boundaries of genre in favor of obsessive exploration. Grounded in the stunning songwriting and soaring voice of its bandleader, Olive Tiger arcs continuously towards meticulous, rich and seductive arrangements.
Pop-rock spitting unicorns and fairies with machetes is how Murderous Chanteuse is described and she takes the state at 9:45 p.m. with her band. Murderous Chanteuse's music is an electric mix of sophisticated pop with a lush electro vibe alongside piano, string and a pulsing percussive beat. With too many accolades to list, Murderous Chanteuse is a multiple award recipient.
The night will close with Suzi Brown known for her unconventional approach to trademark guitar playing. Suzi employs a variety of cultural styles encompassing Celtic, Asian, Island, jazz and even some tribal beats with traditional folk/pop. Nationally recognized artist Suzi Brown is a well-traveled and accomplished singer/songwriter, acoustic instrumentalist and session musician based out of Harrisburg, PA.